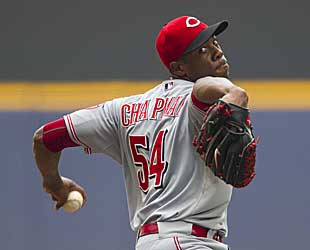 By Matt Snyder
With 26-year-old Cuban star Yoennis Cespedes ready to join Major League Baseball, it's worth taking a look at some of the recent Cuban players to defect to America. Obviously, there have been lots of players in history to come to America from Cuba and the interesting twist is that not near as much is known about these players as ones from other international destinations due to the embargo. So it's often a bit of a guessing game, in conjunction with Cuban numbers (which sometimes vary) and individual team workouts. Here are five recent hits and misses on Cuban imports -- at least as things appear now.
So far, so good
Yonder Alonso, Reds.
The 24-year-old slugger looks like a rising star, if the Reds can either find a defensive spot for him or trade him somewhere that he can play everyday (or trade
Joey Votto
and play Alonso at first?!). In only 98 plate appearances in the majors, the highly-touted prospect hit .330 with five homers, 15 RBI and a .943 OPS this past season.
Aroldis Chapman, Reds.
He went through a stretch of command problems in 2011 -- in six appearances he allowed 13 walks and 11 earned runs in just 3 1/3 innings -- but was strong once again after he was recalled from the minors. We've seen the phenom hit 105 on the radar gun and the strikeout rate (90 K in 63 1/3 innings) bodes well for the success of the 23-year-old lefty moving forward. Plus, considering the aforementioned horrifying stretch of six games, Chapman still has a 3.27 ERA and 1.25 WHIP in 69 appearances.
Kendrys Morales, Angels.
He finished fifth in American League MVP voting in 2009 and was having another good season in 2010 before a broken leg hit the pause button on his career.
Alexei Ramirez, White Sox.
In four big-league seasons, the average line for the Cuban Missile has been .279/.323/.421 with 17 homers, 71 RBI, 75 runs and 12 stolen bases. Lots of teams would take that from their shortstop.
Dayan Viciedo, White Sox.
Sure, I'm banking on him blossoming at the major-league level, but Viciedo has shown good power at every stop. Last season, he hit .296 with 20 homers, 78 RBI and an .856 OPS in Triple-A. Those who have seen him in person know he's capable of some prodigious shots, too, like
Mark Reynolds
-level power. Considering Viciedo's only 22, there's definitely a good shot he becomes a 25-to-30-homer guy in the majors.
So far, not so good
Francisley Bueno.
The 30-year-old left-handed pitcher has logged over 500 mediocre minor-league innings. His shot in the bigs lasted just 2 1/3 innings for the
Braves
, in which he allowed five hits and two earned runs.
Barbaro Canizares.
He actually mashed in the Mexican League (Triple-A) in 2011, hitting .396/.499/.653 with 20 homers in just 83 games, so maybe he'll back. But he always hit in the minors before, too, it was getting a shot in the bigs that was a problem for Canizares. He only received 21 plate appearances for the Braves in 2009, getting just four hits (.190). He's 31 years old.
Yoslan Herrera.
His major-league stint came back in 2008, when Herrera put together five unimpressive outings (9.82 ERA, 2.56 WHIP). He last pitched in the minors in 2010 for the
Twins
' Triple-A affiliate, putting together a 6.08 ERA in 26 2/3 innings.
Yuniesky Maya, Nationals.
He's 1-4 with a 5.52 ERA and 1.55 WHIP in 58 2/3 innings at the big-league level. He hasn't fared much better in Triple-A and he's now 30 years old.
Amauri Sanit, Yankees.
He's good if he's facing Double-A or worse competition, but after that it's been pretty bad. Sanit has a 5.99 ERA and 1.67 WHIP in 50 Triple-A appearances and was horrible (12.86 ERA, 2.14 WHIP) in seven major-league innings this season. He's 32 and first made an appearance in the minors in 2008, so it's hard to see much changing.
For more baseball news, rumors and analysis, follow @EyeOnBaseball on Twitter or subscribe to the RSS feed.