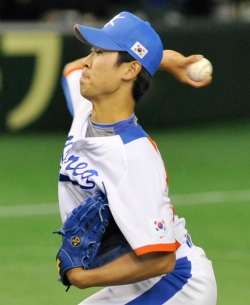 By C. Trent Rosecrans
The posting system isn't just for the Japanese players anymore, as two Korean pitchers may try the posting route to the big leagues, Jeff Passan of Yahoo Sports reports.
Right-hander Suk-Min Yoon and left-hander Hyun-Jin Ryu have hired Scott Boras and may look into becoming the first players posted from the Korean Baseball Organization.
Yoon was the MVP in 2011 and also stared in the 2009 World Baseball Classic. Yoon won the pitching triple crown in 2011, going 17-5 with a 2.45 ERA with 178 strikeouts in 172 1/3 innings. He also had a save and batters hit just .223 against him. In 2009, he went 2-0 with a 1.13 ERA in the World Baseball Classic, appearing in four games and striking out 13 in 16 innings.
Yoon, 25, could chose against posting and come to the United States next season as a free agency.
Ryu, 24, could either post or come to the big leagues as a free agent in 2014. Ryu is 6-foot-3, 210 pounds and was 1-0 with a 2.57 ERA in five appearances at the World Baseball Classic in 2009. He was the winning pitcher against Cuba in the gold medal game of the 2008 Olympics.
For more baseball news, rumors and analysis, follow @eyeonbaseball on Twitter or subscribe to the RSS feed.