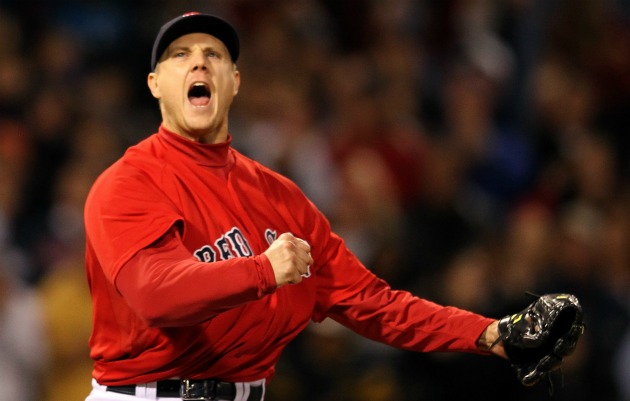 By C. Trent Rosecrans
Ryan Madson has to be pretty happy with the reported four-year, $44 million deal he's set to receive from the Phillies, but he's not the only one. Jonathan Papelbon can't be too torn up by the deal, either.
If Madson is worth $11 million a year, Papelbon -- slightly younger with better stats and more experience -- should be looking at at least $13 million per season.
Of course, there's going to be one less big-money team bidding for his services, but there should due enough out there that allows Papelbon to cash in as the market's top free agent closer.
Madson, 31, has less than a full season of closing under his belt, taking over in Philadelphia after Brad Lidge and Jose Contreras went down with injuries at the start of the season. Madson excelled in the role -- one he didn't do so well in earlier in his career -- recording 32 saves with a 2.37 ERA in 62 appearances. He struck out 62 batters in 60 2/3 innings and walked just 16 (eight intentionally). Madson has 52 saves and a 3.59 ERA in 491 career appearances since his debut as a 22-year-old late in the 2003 season.
Papelbon, who will turn 31 later this month, has 219 career saves with a 2.33 ERA, recording 31 saves with a 2.94 ERA in 2011. Papelbon struck out 87 batters in 64 1/3 innings, walking just 10 and recording a WHIP of 0.933. He's also pitched his entire seven-year career in the pressure-packed AL East.
While the Red Sox and Phillies are the two biggest teams in need of a closer this offseason, the Phillies now are out of the market, leaving Boston as the likely frontrunner (as if it wasn't before). The Blue Jays and Nationals are also looking for a closer and could be looking to spend some money. There's another two wild cards -- the Rangers if Neftali Feliz is moved into the rotation and the Marlins depending on who the whole Leo Nunez/Juan Carlos Oviedo situation plays out.

For more baseball news, rumors and analysis, follow @eyeonbaseball on Twitter or subscribe to the RSS feed.