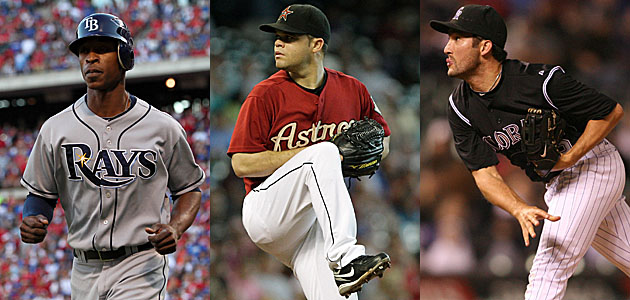 By Matt Snyder
Sure,
Derek Lowe
was dealt to the
Indians
in a salary dump
and we've seen a few signings, but things have been pretty slow of late in Major League Baseball news. When
the biggest name to sign a contract with a new team thus far is a backup first baseman/pinch-hitter
(
Jim Thome
), it says everything you need to know about this past week in actual transactions. So forgive us for loving
Melky Cabrera
and
Jonathan Sanchez
swapping addresses
. It's
something
, and it serves as a nice little unofficial start to the Hot Stove season.
With just one week to the general manager meetings in Milwaukee, it's time to focus on other potential trade candidates. Obviously rumors don't always come to fruition and we're shocked with non-rumored trades going down on occasion, but here are some names that either make sense or have been rumored to be on the move in the recent past.
• The
White Sox
's farm system is in absolute shambles and the major-league club doesn't appear ready to compete with the
Tigers
any time soon, so it's possible general manager Kenny Williams decides to rebuild. Since
Adam Dunn
and
Alex Rios
have no trade value,
Gavin Floyd
,
John Danks
and
Carlos Quentin
would be the parts most likely to move.
•
Orioles
starter
Jeremy Guthrie
is a free agent after the 2012 season and he could be a helpful four or five starter for a contender. He's thrown at least 190 innings in each of the past four seasons.
• Do new
Cubs
executives Theo Epstein and Jed Hoyer look to cut the sunk costs of
Carlos Zambrano
and
Alfonso Soriano
? They'd have to eat a significant portion of the remaining salaries (and for Soriano it's $54 million left on the deal), but the duo isn't helping the Cubs win in 2012. Also,
Marlon Byrd
only has one year left on his contract and prospect Brett Jackson will likely be ready to take over in center soon. The guess is Byrd has more value by the trade deadline in '12, though.
•
Rays
center fielder
B.J. Upton
has long been rumored to be a trade candidate, and this winter it might finally happen with
Desmond Jennings
clearly ready to take over in center. Also, if the Rays are ready to deal a starting pitcher,
Jeff Niemann
is most likely.
•
Denard Span
was rumored to be a trade candidate back in July, and the
Twins
could part with their center fielder to shore up the pitching staff.
•
We've already heard the rumors
about
Jair Jurrjens
and
Martin Prado
from Atlanta, but it's possible since talks fizzled with the
Royals
that the
Braves
just hold both.
• Do the
Angels
try to shed
Alberto Callaspo
and/or
Maicer Izturis
and then land free agent
Aramis Ramirez
at third? They probably would need to shed more payroll in order to do so.
• Starting pitchers
Wandy Rodriguez
and
Brett Myers
could easily be on the move from Houston, but the guess is the ownership situation would need to be resolved first.
• After a disappointing 2011 season, the
Rockies
have plenty of trade candidates.
Chris Iannetta
probably stays put, but
Huston Street
,
Ian Stewart
,
Seth Smith
and
Ty Wigginton
all make sense in potential deals.
•
Dodgers
first baseman
James Loney
finished 2011 with a bang, which might mean it's the Dodgers last chance to get something of value in return for him. There are a few small-market matches, too, including the Indians.
• Finally, as we've already noted, the
A's have put basically the entire team on the block
.
So fasten your seatbelts, the action has only just begun.
For more baseball news, rumors and analysis, follow @EyeOnBaseball on Twitter or subscribe to the RSS feed.