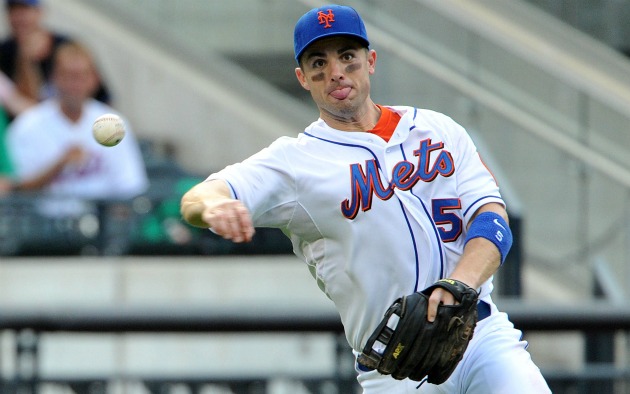 By C. Trent Rosecrans
The hot stove sometimes takes a little while to warm up and the first couple of weeks of November are often more of a lukewarm stove -- and the kindling that is a David Wright rumor shouldn't stoke the flames too much.
On the surface, it's the type of rumor that should draw newspaper headlines -- the Mets "listening" to offers on Wright, the fallen star in New York. Sure, the Mets will obviously listen on offers for Wright, they'd be fools not to listen -- especially with a number of teams needing a third baseman.
The Angels, Cubs, Phillies and Rockies could all be searching for a new third baseman. So could the Brewers, Marlins and Tigers. Wright won't be 30 for another year and he already has four All-Star Games, two Gold Gloves and two Silver Sluggers on his mantle. There will always be a demand for a player like Wright -- especially in a free-agent market that has just one top-flight third baseman available.
The problem is, now is certainly not the time for the Mets to deal him -- listen, sure, but not pull the trigger. You don't sell low, and right now Wright is low, lower than he's ever been. He's coming off his worst offensive season of his career, hitting just .254/.345/.427 with 14 home runs and missed 58 games due to a stress fracture in his lower back. His 102 games played were the fewest since his rookie year of 2004 when he was called up after the All-Star break. Anyone taking Wright now is doing it for a steal -- and salary relief for the Mets.
A National League executive told Andy Martino of the New York Daily News that Mets general manager Sandy Alderson would have to be "bowled over" to deal Wright this winter. That's unlikely to happen.
Wright will make $15 million in 2012 and the Mets have a $16 million option with a $1 million buyout for 2013. Wright can void that option if he's traded, making him little more than a rental if he's traded during the season. That would hurt his value at the deadline, but nothing like the questions surrounding his health and recent production coming off his pedestrian 2011.
Despite the talks of Wright being on the market, the Mets first move for 2012 was a giant flashing sign saying they'll keep Wright. Last week the team announced that not only will they move the walls in at Citi Field, they'll also lower them. The changes, whether the Mets will say so or not, are meant to help Wright.
In the three seasons since Citi Field opened, Wright has hit just .279/.377/.449 with an average of just more than seven home runs a season at home. At Shea Stadium. Wright hit .318/.403/.555 and averaged 29 homers per season from 2005-08, with at least half of those coming at home. The most he's hit in a season at Citi Field is 12, when he hit 29 total homers in 2010.
"You'd be lying if you said you enjoyed hitting at Citi Field," Wright told ESPNNewYork.com last week. "I don't think anybody would say they enjoyed hitting in such a pitchers' ballpark. I don't think we ever looked at the field and it intimidated us. But obviously it's frustrating at times when you hit a ball good and you don't see the results that you want to see."
Of course it's not just Wright, Citi Field allowed just 1.43 home runs per game, the lowest in the majors over its first three years. Other Mets can benefit (notably Jason Bay), but the Mets could benefit the most from an increased offensive output from Wright. If Wright flourishes in the new park, then his stock could would be much higher than it is now. If he doesn't put up significantly better numbers, that trade value is unlikely to change from where it is now.
Wright can still be one of the premier third basemen in baseball, but right now he's a .254 hitter with 14 homers -- that with a $15 million price tag doesn't bring back elite prospects. If Wright finds the new Citi Field to his liking, he can be an impact player for the Mets -- and their future. Wright won't be a Met forever, but he should be one on opening day.
For more baseball news, rumors and analysis, follow @eyeonbaseball on Twitter or subscribe to the RSS feed.