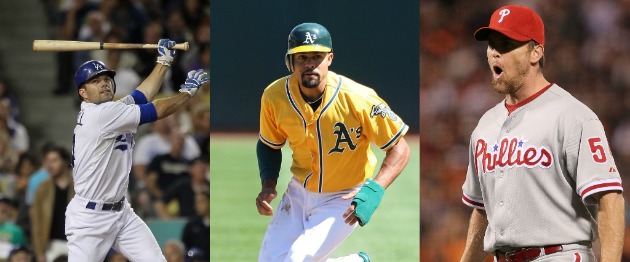 By Evan Brunell
The baseball free-agent class is a bear. Once you get beyond the first couple of names at each position that are eligible for free agency, you quickly dissolve into reading a list of retreads, never-weres or aging All-Stars. That will make it difficult for teams to fill holes via free agency, but at the same time, there are some names that are poised for bounceback seasons and are being overlooked. That's what this list is all about -- what players could contribute in 2012 given the chance, that are being overlooked right now?
Some of these names are true diamonds in the rough, while others are a product of choosing between bad or worse. But hitting right on one of these names could mean the difference between playing golf in October or getting a ring.
C: Chris Snyder

Back problems are never a good thing when it comes to catchers. If Snyder can recover from a herniated disc, however, he could give a team strong production as a backstop for minimal price. It wasn't all that long ago that Snyder had a long-term deal in hand from the
Diamondbacks
and was blocking
Miguel Montero
, but injuries sapped his production and he was shipped to Pittsburgh in 2010. Before the injury, Snyder showed signs of coming out of his slump. His plate discipline was still there, but he was driving balls with more authority. He didn't get enough playing time to accurately draw conclusions, but quality catchers are rare in baseball and Snyder should get another chance to show he belongs.
1B: Lyle Overbay

While age has caught up to Overbay, he still has something to offer as a first baseman. While one wouldn't have ever called him one of the better first baseman in the league in recent years, he did finish his
Blue Jays
career as a respectable first baseman. Problem is, he was anything but respectable with the
Pirates
and needed a late-season rejuvenation in Arizona to feel better about himself. At this point in Overbay's career, it would be a surprise if he found a full-time job at first somewhere, but Overbay is still capable of cracking doubles and providing solid (albeit unspectacular) defense. In a platoon role playing against just righties, Overbay could deliver.
2B: Aaron Hill



Hill once hit 36 home runs, doing so in his breakout 2009 campaign as a 27-year-old. That bode well for the future, giving Toronto a beast in the middle of the order that played second, no less. Unfortunately for Hill, things took a turn for the worse in 2010 as he tried too hard to drive the ball over the fence. This season, Hill stopped trying to swing for the fences so much, but his offense was completely disastrous in every possibility, hitting .225/.270/.313 before the Jays gave up. Arizona saw what Hill could be like at his best, as the 29-year-old hit .315/.386/.492 down the stretch. That offers a lot of optimism moving forward, even if 2009 remains his high-water point. The mere fact he rebounded as well as he did with the Diamondbacks puts Hill in the category of low risk, high reward.

3B: Jamey Carroll



Carroll is actually one of the better names on the free-agent market, although that's mostly by default given the thin crop of free agents. Some may overlook Carroll for a third-base job given he has played second and short almost exclusively the last two seasons. Yet, he's played more career games at third than shortstop (by one game), so he can handle the hot corner. In a market devoid of third basemen, teams would be well-served to look at Carroll to plug the hot corner and a fill-in across the diamond. The utility player has really emerged over the last two years with the
Dodgers
and is an above-average player. He won't excite you, but he won't give games away. Any team hoping to wins needs a Jamey Carroll as a complementary piece.

SS: Clint Barmes



Barmes is a criminally underrated shortstop who could solve a lot of problems for many teams -- the
Brewers
are one that springs to mind. The now-32-year-old was popular back in 2005 when he busted out in Colorado and fast becoming a darling of fans and media alike when he broke his left shoulder falling down a flight of stairs after carrying deer meat. Since then, Barmes has become a slick fielder who can't quite hit with the bat. But in the depressed scoring of the last two years, Barmes' bat has started looking better in comparison and hit .244/.312/.386 for Houston last year, numbers not that far off an average shortstop these days. And his fielding. Oh, his fielding. Bottom line, he can flat pick it and will come cheap enough that whatever production he gives will outstrip what he is being paid. Barmes is an average- to below-average hitter with superior defense and is head and shoulders better than, say,
Yuniesky Betancourt
.

LF: Felix Pie



Pie was once supposed to solve the
Cubs
' problems in center field and usher in a new era of baseball in the Windy City. Instead, he got drummed out to Baltimore and for a while there, it looked as if he was yet another in a line of players that got away from Chicago. Except that Pie hit .220/.264/.280 in 175 at-bats after finally being primed to take over a starting role after slashing .274/.305/.413 in 308 PA in 2010. There's no getting around how bad Pie's 2011 was, but he will turn 27 at the beginning of February and his talent didn't just disappear overnight. Pie will struggle to find playing time on even rebuilding clubs, but it's too early to give up on the lefty.

CF: Coco Crisp



In a thin crop of free agents, it's easy to scan by Crisp's name and think he's just another name in a motley crew of unappetizing players. But Crisp could be a dynamic center fielder finally getting back in the groove for the first time since receiving the tall task of replacing
Johnny Damon
in Boston. Prior to linking up with Oakland for 2010, Crisp had never stolen more than 28 bases in a season (2007
Red Sox
). He swiped 32 in 2010, and anted that all the way up to 49, leading the league and being caught just nine times. In addition, playing in his cavernous home stadium doesn't do justice to his bat, which has been the best over the last two seasons since 2004-05 with the
Indians
. Don't look past this guy.

RF: Magglio Ordonez



Ordonez may opt for retirement after breaking his right ankle for a second time, but if he tries to give it another go next season, Ordonez could be the perfect salve for a team looking to plug a gap in the outfield or DH. Ordonez's final season line of .255/.303/.331 in 357 plate appearances looks horribly weak, but he hit .354 from Aug. 12 on, and was 5-for-11 in the ALDS. The 37-year-old reported that his surgically-repaired right ankle, which hadn't been feeling right after breaking it in June 2010, was finally starting to come around. Then he broke it again in the ALCS. If he can bounce back, it appears as if Ordonez has enough left in his bat to hit over .300. However, if he chooses to play again, he may be forced to sign late and prove to teams he's fully healthy.

SP: Hisashi Iwakuma



Don't forget about Iwakuma, who could have been pitching for the
Athletics
in 2011 had negotiations between Oakland and Iwakuma's agent, Don Nelson, not broken down. This season, the lefty is free to negotiate with any team as he is now an unrestricted international free agent. He appears likely to jump stateside, and will draw quite a bit of interest from teams. Once the top names on the starting pitching market sign, Iwakuma could quickly rise to the top of the list. He's known for his control and walking just 19 in 17 games in Japan ball in 2011. The 30-year-old finished with a 2.42 ERA in 119 innings after spending two years as a reliever. Teams may be concerned about his ability to handle the demands of a MLB rotation as opposed to Japan, where starters take their turns once a week.

RP: Mike Gonzalez



It seems as if Gonzalez's luster has diminished in recent years not just because of injury problems, but thanks to pitching in Baltimore. You'd do well not to overlook Gonzalez, however, who throws hard. From the left side, that's rare to see, and when healthy, the 33-year-old can be one of the most dominant relievers in the league. Gonzalez pitched a total of 53 1/3 innings in 2011, split between the
Orioles
and
Rangers
. His strikeout rate, while not as high as recent years, still remains high and he displayed some of the best control of his career this past season as well and a subsequent dip in fastball velocity was not recorded. In Texas, he took on the role of a lefty specialist which was the best way to use him in '11, but this is a guy who can function as a top-notch setup man for any team in the league.

CL: Brad Lidge



Lidge was supposed to spend the entire year as the
Phillies
' closer, but that changed when injuries struck yet again. Fortunately, Lidge was able to recover to pitch 19 1/3 innings down the stretch and proved he could still strike out batters despite a fastball that couldn't reach over 90 and relying too often on his slider. With an entire offseason to rest, it's possible Lidge could reclaim some of his lost fastball velocity, which would reduce his reliance on a slider. Control is a problem, as evidenced by his 13 unintentional walks (against 23 strikeouts), but he showed improved control in September, walking just four and punching out 11 in 9 1/3 innings. That was a major step forward from August, when he walked seven in 7 1/3 innings. There are a lot of closers on the free agent market, so Lidge will struggle to find a team that could give him a shot to close, but could end up as baseball's comeback player of the year in 2012 if all breaks right.
For more baseball news, rumors and analysis, follow @EyeonBaseball on Twitter or subscribe to the RSS feed.