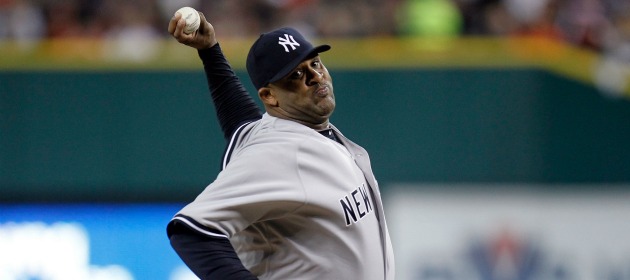 By Evan Brunell
CC Sabathia
is off the market before free agency even began, agreeing to return to the
Yankees
with a one-year extension worth $25 million, plus a vesting option for 2017 for the same amount.
The news will have an immediate impact on free agency, as it increases the price of
pitchers set to be free agents
. While many did expect Sabathia to return to New York, many didn't think the lefty would sign away before he got to see what was on the market. It's all that much more surprising that Sabathia signed early, given he's only receiving one additional guaranteed year. But he did, and now
C.J. Wilson
has to be licking his chops. Teams that would have otherwise started their shopping with Sabathia at the top of the list will be forced to turn to lesser names in Wilson and others.
The move may also sway starting pitcher Yu Darvish to come stateside this season. The phenom ace, whom many say is far better than
Daisuke Matsuzaka
, has been unsure whether or not he will jump to MLB this season. With the price of Sabathia's contract easily keeping the club in play to win a Darvish bidding, plus the desperation of other clubs to get a top starter, the time is now for Darvish -- not after 2012, when multiple quality pitchers will become free agents.
More Free Agency
Position rankings
Obviously, the Yankees benefit well from Sabathia re-upping at what appears to be a discounted price. The total package of Sabathia moving forward is now five years and $122 million guaranteed, with $5 million of the guaranteed price coming on a buyout of 2017's potential vesting option. Joel Sherman of the
New York Post
writes that the option vests automatically unless Sabathia is sidelined by a left-shoulder injury. If Sabathia finishes 2016 on the DL, spends more than 45 days sidelined the entire season with a left-shoulder issue, or makes at least six relief appearances due to shoulder issues, the option can be declined.
The Yankees wanted to avoid any long-term commitment spanning longer than five years, and they have accomplished their goal by convincing Sabathia to accept just one extra year guaranteed. On the market, he probably could have commanded at least six years to start, but Sabathia made no secret about wanting to remain with the Yankees. He also gets to beat out ex-teammate
Cliff Lee
for highest average annual value on a multi-year deal for a pitcher. Lee's five-year, $120 million deal was previously the highest, but now Sabathia takes it with an AAV of $24.4 million. No matter how you slice it, it's a fantastic deal for the Yankees, and clearly Sabathia walks away pleased as well. If he can stay healthy and effective, becoming a free agent at the age of 36 may still net him one more solid contract.
Interestingly enough, Sabathia and Lee's former team in the
Indians
benefit. The club just picked up a $7 million option on starter
Fausto Carmona
and traded for
Derek Lowe
before all the news hit. Again, while Sabathia returning to New York was expected and not a surprise, it's fair to wonder if Carmona's interest in free agency would have spiraled beyond $7 million despite a 5.25 ERA in 32 starts. The youngster has shown previous success, and the Indians now retain the right to keep the 27-year-old through 2014. Meanwhile, Lowe comes to the Indians at a small price of $5 million and giving up a minor leaguer that will be lucky to ever hit the bigs.
The
Braves
wanted to move Lowe fast and the Indians obliged. But Atlanta may have been better served to wait out the market for starting pitching. If Darvish somehow opts to stay in Japan, teams will grow more and more desperate, and the Braves may have found a better deal. It works in the Indians' favor, though, who now have two pitchers under contract whose values are now slightly higher with Sabathia's return to New York. With Sabathia, Carmona and Lowe removed as options, free agents can now expect to see more dollar signs.
For more baseball news, rumors and analysis, follow @EyeonBaseball on Twitter or subscribe to the RSS feed.