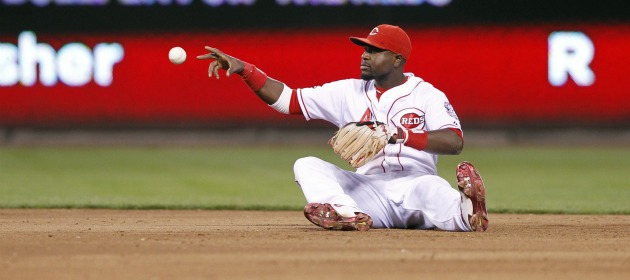 By Evan Brunell
The
Reds
picked up the team option on second baseman
Brandon Phillips
and declined closer
Francisco Cordero
's option, the team announced.
In addition, the
Twins
claimed left-handed starter
Matt Maloney
off waivers from Cincinnati. The moves altogether will drop Cordero and Maloney from the Reds' 40-man roster.
Phillips' option is for $12 million, and exercising the option has been expected for months, However, the two sides are discussing a long-term deal, although the Reds may not be able to meet the price Phillips is setting. The second baseman hit .300 for the first time in his career, adding 58 extra-base hits, scoring 94 and driving in 82 runs. The two-time All-Star is also a finalist for his third Gold Glove. All told, the 30-year-old could fetch a significant price in free agency, whether this year or next year. And Phillips knows it, saying, "This is my last contract,"
in September
. "There is no homeboy hookup. I just want to be paid what I am worth."
More Free Agency
Position rankings
Earlier in the month, Phillips addressed the option specifically, saying he wanted a new deal instead of just exercising the option -- but hadn't heard anything from the team.
"I've always said from Day 1 that this is where I want to be at,"
Phillips said
. "I thought there might be some talks going on during the season but I haven't heard anything all year. I was very disappointed about it. It hurts bad that this is where I want to be at and I've paid blood, sweat and tears for this organization, but the only thing I can do is thank them very much for giving me a second opportunity. I can't really trip about anything that much. I came here and got my career back to where it should be going."
GM Walt Jocketty has displayed an interest in extending Phillips, but it's also no surprise that he chose to wait until after the season. Many teams prefer not to discuss contracts during the year and with the plum option working in the Reds' favor, there was no hurry to get Phillips inked. However, Phillips fired a warning shot when talking about the chance of his option being picked up with no new deal.
"If they just pick my option up and don't extend me, I feel like that's a slap in my face," he Phillips. "If the team wants you, they will make room. They will show you they want you here, period. They did it for some of the other guys."
Whatever happens, the Reds will have an All-Star second baseman opening the season in Cincinnati. Past that, who knows?
One thing's for sure -- Phillips likely wont have Francisco Cordero as a teammate next season. Cordero's $12 million option was declined, handing the righty a $1 million buyout. This move is a bit surprising, as Cordero saved 37 games in 2011 with a 2.45 ERA. While Cordero turns 37 next May, he has 194 saves over the last five seasons, the last four with Cincinnati, and his option would have only tied him to the team for one more season, which can be a luxury when dealing with relievers and their maddening inconsistency. Oh, and
Aroldis Chapman
is being transitioned to a starter, so there's that much less depth behind Cordero.
However, while Cordero's walks plunged this year to its best rate since 2007, he also struck out far less batters. In fact, on a rate basis, it was a career-worst. In that way, Cordero's newfound control could be misleading -- he's always been one to walk hitters but makes up for it by throwing gas. This year, his average fastball velocity dropped to 93 mph, far below his career mark of 95 mph. In fact, last season's 94.5 mph was the first time his average velocity fell below 95. When velocity drops, pitchers can easily command their pitches more, which could explain Cordero's ability to limit walks. But that is misleading, and it becomes clear why the option was declined. The Reds simply don't have confidence that he can live up to the money he would receive and fulfill his role as the team's closer.
There will be a handful of closers on the free-agent market, so the Reds should be able to
find a better option
out there than Cordero. There is also the trade route, or promoting an internal reliever.
Nick Masset
makes the most sense in that role. They won't be able to consider Matt Maloney for the role, though. The 27-year-old was claimed off waivers by the Twins after Maloney's forgettable season with Cincinnati resulted in a 9.16 ERA in 18 2/3 innings, making two starts. However, he had a 2.99 ERA in Triple- A and will give the Twins depth. Minnesota also claimed reliever
Jeff Gray
off waivers from Seattle.
For more baseball news, rumors and analysis, follow @EyeonBaseball on Twitter or subscribe to the RSS feed.