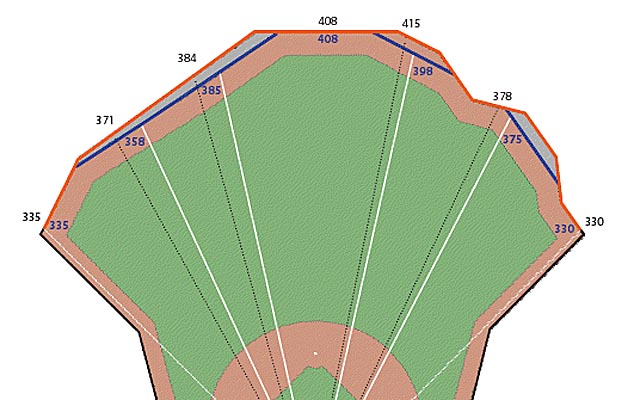 By Matt Snyder
Moving the outfield walls in to make Citi Field more hitter-friendly has been discussed pretty much since the ballpark opened and started sucking the power from the
Mets
' lineup. Whether it was among fans, sports talk radio or people who actual have decision-making power, the dearth of home runs has long been a subject when it comes to how Citi Field plays. And it's all about to change.
The Mets announced Monday they are moving in the walls in several areas and the new wall will be blue. Check out the graphic above, which was provided by the Mets. The blue lines are where the new walls will be, while the orange lines depict the position of the original walls.
From the press release:
The Mets will erect a new wall in leftfield starting between the New Era and Caesars signs and angled to the Citi sign in left-centerfield (see attached renderings). The new wall will be closer to home plate by approximately 4 feet in leftfield and up to approximately 12 feet in deep left-centerfield.

A new wall will start in right-centerfield and extend toward the bullpen, and be as much as approximately 11 feet closer to home plate. The fence in front of the Mo's Zone/Modell's Clubhouse will move in approximately 10 feet. The distances from home plate to centerfield and the foul poles in leftfield and rightfield will remain the same.

"We wanted to make Citi Field fair to both pitchers and hitters," said Mets General Manager Sandy Alderson.

"After conferring with Sandy and all members of his staff, Ownership concurred with the recommendation to change the dimensions at Citi Field," said Mets COO Jeff Wilpon. "We decided to change the outfield wall from black to Mets blue, which many of our fans have wanted."

As a result of moving the walls in, the Mets will create a unique seating section in leftfield between the new and existing wall to accommodate about 100 fans. The club will also expand the Modell's Clubhouse in rightfield to incorporate an outdoor seating area for approximately 40 additional fans.
Citi Field was last in the majors in home runs during its first three seasons with an average of 1.43 per game.
One player in particular has gotten tons of attention for his lack of power: All-Star third baseman
David Wright
.
Wright averaged 29 homers per year from 2005-2008. He hit just 10 home runs in 2009 and 14 last season (in just 102 games). He did hit 29 homers in 2010, but 17 of those came on the road. So he's seen a dip.
"Any time you talk to a hitter about making a park more hitter-friendly, it's a thing that we're all for," Wright said about the changes to
ESPN New York
. "I very briefly looked at the pictures and those dimensions and everything. It just looks, obviously, fair.
"You'd be lying if you said you enjoyed hitting at Citi Field," he added. "I don't think anybody would say they enjoyed hitting in such a pitchers' ballpark. I don't think we ever looked at the field and it intimidated us. But obviously it's frustrating at times when you hit a ball good and you don't see the results that you want to see."
It's not just Wright, though. What about
Jason Bay
, for example?
Since signing with the Mets as a free agent, Bay has fallen apart. He hit 36 home runs with 119 RBI and a .921 OPS for the
Red Sox
in 2009. For the Mets he has 18 home runs, 104 RBI and a .723 OPS in 218 games.
Obviously the move will alter the ballpark and benefit opposing hitters as well -- not to mention that there are other factors at play for the likes of Bay and Wright -- but I've got to believe this helps the psyche of the Mets' position players. It would be awfully hard to play in a park where fly balls go to die for 81 games a season. Just ask the
Padres
.
For more baseball news, rumors and analysis, follow @EyeOnBaseball on Twitter or subscribe to the RSS feed.