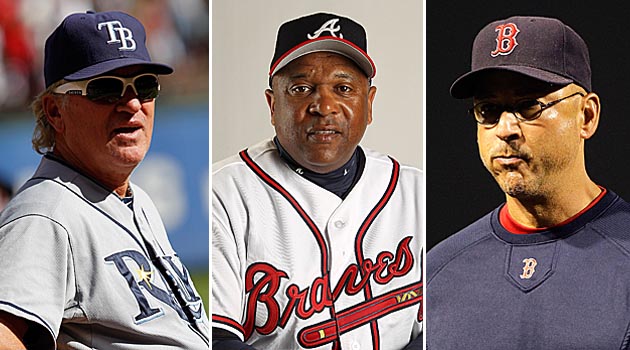 By Matt Snyder
It's back to reality in St. Louis. The
Cardinals
got to bask in the glory of their World Series championship for a few days, culminating with a parade Sunday afternoon. Afterwards, manager Tony La Russa told the players he's retiring. Monday morning, the move was announced in a press conference at Busch Stadium.
So it's back to business for general manager John Mozeliak. Here are a few names that might be considered -- or at least names that people might be throwing around the rumor mill in the next few days:
Terry Francona
- It feels like he's got to be the immediate front-runner, though this is only speculation. Francona won two pennants and two World Series championships in eight seasons for the
Red Sox
, piling up a .574 winning percentage despite playing in the toughest division in baseball. He needed to get out of Boston and he did, but that doesn't mean he's averse to another job immediately.
Joe Maddon
- Maddon took over the embarrassment that was the Devil
Rays
back in 2006. In 2008 they were just the Rays and playing in the World Series. These Rays are a perennial contender and Maddon's as much a part of that as anyone. There's no question Maddon is one of the best managers in baseball, but would he leave Tampa Bay? If Mozeliak wants Maddon, he needs to sell Maddon on the difference in experience between Tampa Bay's financial woes, low fan support and awful facilities to what he'd get in St. Louis.
Terry Pendleton
- He played the first seven years of his career for the Cardinals (1984-1990), was the
Braves
' hitting coach from 2001-2010 and is currently the Braves' first-base coach. Pendleton has been connected to Cardinals via rumors in the past (when La Russa was reportedly mulling retirement) and has also been reportedly considered to be named the manager of both the
Nationals
and Braves at different times. He seems like one of those guys on the cusp of getting his first shot, so maybe it happens here.
Bobby Valentine
- Hey, there's a managerial opening, so we have to throw Valentine's name in the ring, right? I actually think it's a rule, so don't blame me for falling in line.
Ryne Sandberg
- Sandberg is probably closer to getting his first shot than Pendleton, but both the Red Sox and
Cubs
are likely strongly considering him. It would be another slap in the face to the rival Cubs if the Cardinals hired the Hall of Famer (he played the overwhelming majority of his career for the Cubs -- just a heads-up to those historically challenged), but should that even be a consideration in the hiring process?
Jose Oquendo
- Another former Cardinals player, the versatile Oquendo was with St. Louis from 1986-1995. He has been the Cardinals' third-base coach since 2000 and has interviewed for several other managerial openings. Oquendo also served as the manager for Puerto Rico in each of the first two World Baseball Classics.
Jim Riggleman
- Riggleman played in the Cardinals' minor-league system and also managed at both the Class-A and Double-A levels for the Cardinals back in the early 1980s. He's a very highly respected baseball man, but his track record as a manager isn't sparkling. He's managed 12 seasons and made the playoffs just once (the 1998 Cubs, who had to win a one-game playoff to take the wild card). Also, the manner in which he resigned this past season from the Nationals' managerial post can't leave teams pining to hire Riggleman.
Joe Torre
- Um, yeah, he's not going to manage anymore. Don't waste your time even thinking about this one.
Dave Duncan
- The best pitching coach in the game is too valuable in his current role. Plus, not many pitching coaches make a successful transition to manager. I can't see the Cardinals taking this route.
Mark McGwire
- One year of being a hitting coach doesn't mean he's ready to be a big-league manager. There are so many more qualified guys to have the manager job, I don't see Big Mac even being a consideration.
Albert Pujols
- Hey, the
White Sox
considered
Paul Konerko
as
a player-manager
, right? And what better way to afford Pujols than to give him the salaries for both the manager
and
a superstar first baseman. Plus, he's been calling hit-and-run for years! (This is a joke, by the way. Pujols is not going to be even considered).
For more baseball news, rumors and analysis, follow @EyeOnBaseball on Twitter or subscribe to the RSS feed.