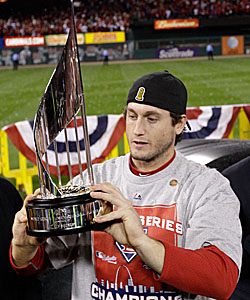 By Matt Snyder
ST. LOUIS -- Did you know who
David Freese
was back at the start of the season? If so, you are likely a
Cardinals
fan, die-hard baseball fan or fantasy baseball player. Of the surely 25 million-plus people who watched Game 7 of the World Series, I'm guessing a majority of them hadn't heard of Mr. Freese back in April. But everyone knows him now. He's the World Series MVP just as he was the NLCS MVP.
Even to Freese himself, this improbable run for his team with him becoming a national star doesn't even seem real.
"I'm trying to soak this all in," he said after the game. "I've tried to soak in this whole postseason as much as I can because you never know if it's your last attempt at a title. You know, it's going to take me a little bit, I think, to realize what we've accomplished."
What Freese's team accomplished has been well documented. It's a great story, but Cardinals fans themselves have to be sick of hearing about being 10 1/2 games out in late August. So let's zero in on Freese. He went 25-for-63 (.397) with eight doubles, a triple, five home runs and 21 RBI in the Cardinals' 18 postseason games. He had an OPS near 1.300. Those are video game stats he was putting up in front of millions. He's a rock star now.
Heading into the postseason, it was the "big three" of
Albert Pujols
,
Matt Holliday
and
Lance Berkman
to avoid. Well, when that happened, the opposing teams were made to pay by a modest 28-year-old third baseman. But he just wants to let you know that he shouldn't be getting too much individual glory.
"I've had plenty of days of my life where I thought I wouldn't be even close to being a Big Leaguer," he said. "I'm here because of everybody around me. They've put so much trust in me to accomplish not only baseball but just stuff in life, and to do this is -- I'm just full of joy, finally."
As well he should be. Freese's team is one of the most improbable champions of all-time. Freese was the walk-off hero of a Game 6 that will go down in history as one of the most exciting games of all-time. The entire World Series, meanwhile, was one of the most exciting in recent memory. On top of all that, Freese is also etched in history by winning both an LCS and World Series MVP. He joins Willie Stargell (1979), Darrell Porter (1982), Orel Hershisher (1988),
Livan Hernandez
(1997) and
Cole Hamels
(2008) as the only men to ever win both awards in the same postseason.
Just don't tell the humble Freese he earned the award on his own.
"I've got some guys behind me, and obviously a few guys ahead of me in the lineup that I just sit and watch and I learn and I soak up everything they do, from Spring Training on. I'm with Matt Holliday every day in the offseason. He took me under his wing a couple years ago when things weren't too hot, and he's a big brother to me. I owe him everything."
Well, not everything. In fact, it's the other way around. If Freese doesn't come through time and again, the Cardinals don't win the World Series. He most certainly fits the bill of the most valuable player, even if he doesn't want to acknowledge it.
For more baseball news, rumors and analysis, follow @EyeOnBaseball on Twitter or subscribe to the RSS feed.