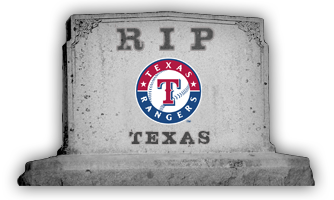 By Evan Brunell
Another season gone, another disappointment for 29 teams as one is immortalized forever. Let's take a look back at 2011 and forward in Eye on Baseball's R.I.P. series...
Team name:
Texas
Rangers
Record:
96-66, AL West champions, AL champions. Lost World Series, 4 games to 3.
Manager:
Ron Washington
Best hitter:
Mike Napoli
-- .320/.414/.631 in 369 AB, 25 2B, 30 HR, 75 RBI
Best pitcher:
C.J. Wilson
-- 16-7, 233 1/3 IP, 2.94 ERA, 74 BB, 206 K
2011 SEASON RECAP
The Rangers kicked off defending their 2011 AL pennant by racing out to a 16-11 start that sent the tone for the entire season. Leading up to the start of the year, the Rangers were a bit overlooked. While only a few were giving the
Angels
a real shot at contention, much of the offseason talk was about the
Athletics
who looked like they were cobbling together a decent enough offense to support the strong young pitching, but it was all Texas, all the time, although the team needed to work through kinks from May to June, posting a 27-28 record in these two months, with closer
Neftali Feliz
baffingly struggling in his followup to 2010, when he saved 40 games as a rookie.
But then July hit, and the Rangers took off with an 18-9 month that saw a 12-game winning streak, plus scoring 20 runs on the 25th against the hapless Twins. Texas punctuated the season with its best month of the season with a hot September, finishing the month with a 19-6 record and running away from Los Angeles with the division. In the playoffs, they dominated the Rays, winning the ALDS in four games, the only series that didn't go the maximum five. They rode several huge performances in the ALCS to victory over Detroit, bouncing the Tigers in six. In the World Series, the Rangers had a 3-2 series lead and took the lead many times in Game 6 but couldn't hold on for the victory as Ron Washington outmanaged himself. Two straight AL pennants and nothing to show for it.
2012 AUDIT
The Rangers will lose ace C.J. Wilson from its staff, but that's the only major free agent the team has. That's great news, but Texas won't have much payroll flexibility with several deals jumping in salary and quite a few arbitration cases. The club needs to find a way to replace Wilson in the rotation while looking to improve other facets of the team. Mitch Moreland seems to be squeezed out at first -- he's hardly deserving of a starting job next season and if the club wants to get Michael Young and Mike Napoli full-time at-bats, Moreland's gotta go. The bullpen, depending on how Texas approaches its rotation, will need fortifying too. Otherwise, the offense as a whole is pretty set.
FREE AGENTS
Colby Lewis
(team option: $3.25 million)
Matt Treanor
, C
Brandon Webb
, SP
C.J. Wilson, SP
OFFSEASON FOCUS
Shift Neftali Feliz to the rotation. Feliz has the ability to start, and the chance of him evolving into an ace can't be discounted. With a poor free-agent market, the Rangers have to replace Wilson internally or via trade, and Feliz is the path of the least resistance -- and also the one with the most payoff. Alexi Ogando should also be penciled into the rotation, which should also have Colby Lewis and Derek Holland in it, with Scott Feldman and Matt Harrison duking it out for the final spot.
With Feliz gone, the Rangers need to find another reliever. It doesn't have to be a closer, as the club could elevate Mike Adams into the role, but they need to find either a strong closer or strong setupman. If money is a problem, the club should elevate Adams and ink one of Jason Frasor, Chad Qualls, Jon Rauch or Takashi Saito. Signing a left-handed reliever is also a must, as Darren Oliver and Mike Gonzalez are set to be free agents. Oliver is a no-brainer to return, and Gonzalez makes a lot of sense as he can dial up the fastball more than Oliver. If Gonzalez departs, Javier Lopez or George Sherrill could make sense.
If Yu Darvish is available, go all out to get him. The Rangers will have some money coming off the books soon with Michael Young and with two consecutive World Series, will have additional revenue as well as a need to keep the team producing. Darvish would be a perfect add, especially in light of Wilson's departure.
Keep Mitch Moreland, but make him a bench player. The Rangers need to give full-time at-bats to Young and Napoli, and Torrealba deserves to play over Moreland given he can catch and give Napoli breaks at first and DH. Moreland can't hit lefties, but he can fill in against righties when Young shifts to play second, third or short as a backup, freeing up first for Moreland. If the team gets a solid trade offer for the first baseman in exchange for a reliever, the club should pounce.
That's it. Really. The Rangers have a pretty settled team. They simply need to find a way to withstand Wilson's loss and stand pat otherwise. This is a team that's been to the World Series two years in a row with many of its principals locked up and/or young. One player the club should try to extend this offseason is Nelson Cruz, set to be a free agent after 2013. Texas should hold off on Mike Napoli and Josh Hamilton, both who are slated to become free agents after 2012. With Napoli's scorching 2011 and Hamilton's injury issues, the club would be better off to wait and see on these players.
For more baseball news, rumors and analysis, follow @EyeOnBaseball on Twitter or subscribe to the RSS feed.