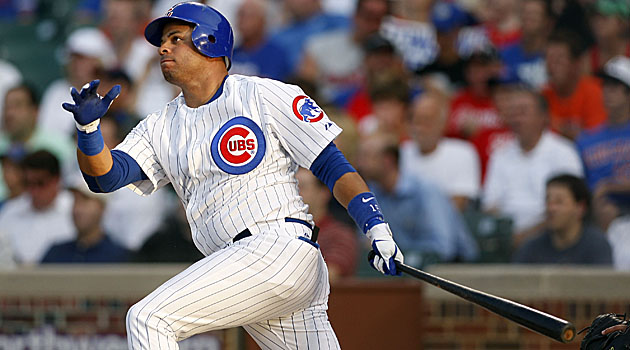 By Matt Snyder
If your favorite team is looking for a really good run producer to play third base next season and free agency is the route it's taking, there is only one choice. Otherwise, this free agency class is mostly backups or guys who will retire. It's a pretty embarrassing position in terms of how thin it is. How it affects
Aramis Ramirez
's ability to get a big deal remains to be seen, but it seems like he should have a lot of leverage, no?
You need a third baseman? It's Wilson Betemit after me.
List of MLB free agents

1. Aramis Ramirez.
He's only 33 and showed he can still swing the bat with authority in 2011, as he hit .306/.361/.510 with 26 homers and 93 RBI. He's also not the butcher many believe he is at third base -- though he's not exactly
Adrian Beltre
, either. Ramirez is unlikely to have his option picked up by the
Cubs
, so it seems like he'll have a new home for the first time since 2003, when he landed in Chicago on a July trade. As already stated, if someone wants to sign a good free agent third baseman, the buck stops here.
Potential teams:
Marlins
,
Brewers
,
Tigers
,
Rockies
,
Angels
,
Orioles
(mercifully making
Mark Reynolds
a DH) ... and the Cubs are still possible

2. Wilson Betemit.
He hit .285/.343/.452 with 22 doubles and eight home runs this season in 97 games. He's a decent to slightly above-average hitter who can play several infield positions, but not really an everyday starter. The dearth of good free agent options at third base could very easily land Betemit a starting job, though. I'd just be weary of a multiple-year deal, as he hasn't played in more than 97 games since 2007.
Potential teams:
Brewers, Tigers, Rockies, Marlins, Angels

3. Casey Blake.
He only hit .252/.342/.371 and had serious neck issues, causing him to contemplate retirement. The
Dodgers
have declined Blake's option, so he's headed elsewhere. Retirement is possible, but Blake is seeking a one-year deal and probably willing to be a backup.
Potential teams:
Yankees
, Brewers, Tigers,
Red Sox
,
Blue Jays
, Marlins,
Reds
, retirement

4. Eric Chavez.
He hit .263 with two homers and 26 RBI in his first non-Oakland season, but he still couldn't avoid an extended trip to the disabled list. According to various reports, Chavez isn't sure if he wants to play again in 2012 or retire. If he decides to play, he'll likely get the Yankees' backup third base job again. If he doesn't, he'll be free from the aggravation of constantly being injured. My guess is he retires and the Yankees grab Blake.
Potential teams:
Yankees, retirement

5. Greg Dobbs.
Dobbs enjoyed lots of playing time in 2011, gathering the most plate appearances of his career. He hit .275 with 23 doubles and eight homers while showing versatility on defense. He's not a great option to start every day, but a really good player to have off the bench. The Marlins reportedly want him back, but a dry free agency crop might land him a decent contract and starting job elsewhere.
Potential teams:
Marlins, Brewers, Rockies,
Phillies

6. Kevin Kouzmanoff.
Once a decent prospect with power potential -- he did hit 23 home runs while playing half his games in Petco Park in 2008 -- Kouzmanoff's stock has plummeted. He hit .255 with three homers in 27 games after joining Colorado, and the Rockies reportedly haven't ruled out bringing him back. It's possible he has a good full season in a hitter's park, if he stays there (he'd only previously played extended stretches in pitcher's ballparks).
Potential teams:
Rockies, Brewers, Cubs, Marlins, Reds, Tigers

7. Omar Vizquel.
The 44 year old just keeps hanging on. Is he trying to get to 3,000 hits? He currently has 2,841, but only collected 42 in 2011. So it doesn't really seem to be happening any time soon. Vizquel might just love the game so much he refuses to go until someone won't sign him. And someone will this offseason. He'll be playing again in 2012, bet on it.
Potential teams:
White Sox
, after that it's a complete guessing game. Any team looking for a veteran backup infielder would have interest, and that could be anyone.

8. Bill Hall.
At age 26, Hall hit 35 homers for the Brewers. At age 31, he finished the season in the minors after hitting just .158/.220/.211 for 16 games with the
Giants
. He might get a shot with the Yankees if neither Blake nor Chavez are there, or someone could use him as a pinch-hitter off the bench. Regardless, don't expect there to be tons of interest. He hasn't been a good player for five years.
Potential teams:
Orioles,
Nationals
, Yankees, retirement

9. Jorge Cantu.
The 29 year old was once a run producer, but Cantu had a dreadful 2011 season, hitting .194/.232/.285 in 155 plate appearances for the
Padres
. He was decent after signing with the Rockies ... in Triple-A.
Potential teams:
Rockies, Marlins, Brewers -- but this would be a desperation move to start him. He's basically going to be a backup or retire.

10. Andy LaRoche.
Once a top-20 prospect -- for two straight seasons -- LaRoche's career has been a monumental disappointment. The only season he approached being a decent player was 2009 for the
Pirates
, but last season LaRoche was designated for assignment by the lackluster A's. So that should tell you where his stock stands. It's possible a team strapped for cash attempts to catch lightning in a bottle, as LaRoche is still only 28.
Potential teams:
Reds, Marlins, Brewers, Cubs, Orioles,
Mariners
, Red Sox,
Indians
, many more.

11. Alex Cora.
Cora's on-field value has dwindled all the way to zero, but he's reportedly a great clubhouse guy and baseball mind. Several reporters, fellow players and coaches have noted in the recent past that Cora will make a great manager someday. Cora has said he wants to keep playing in 2012, but it might behoove him to get a start on his next career quite soon.
Potential teams:
Nationals, retirement
Other free agents who could play third:
Jamey Carroll
,
Edwin Encarnacion
,
Jerry Hairston
,
Ramon Santiago
,
Willie Bloomquist
,
Aaron Miles
,
Ronny Cedeno
,
Jack Wilson
,
Mark DeRosa
,
Nick Punto
,
Willie Harris
,
Craig Counsell
,
Jose Lopez
,
Orlando Cabrera
For more baseball news, rumors and analysis, follow @EyeOnBaseball on Twitter or subscribe to the RSS feed.