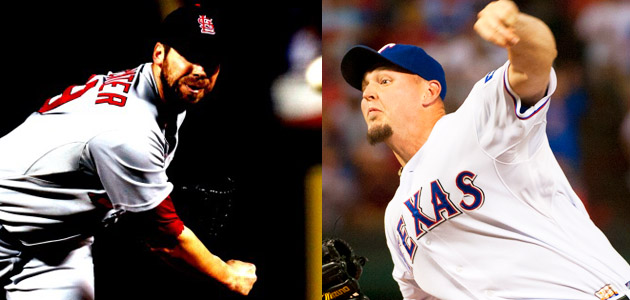 By Matt Snyder
Rangers at Cardinals, 7:05 p.m. CT, Busch Stadium, St. Louis. Series is tied, 3-3.
ST. LOUIS -- While there is rightfully plenty of focus on the Cardinals' Game 7 starter -- it's
Chris Carpenter
, even though
the Cardinals wouldn't say anything on record Thursday night
-- I've gotten a good chuckle out of the public reaction to Rangers manager Ron Washington naming
Matt Harrison
the Game 7 starter.
Remember back to before Game 4 of this series. Washington was said by many to be making a mistake in letting
Derek Holland
start, considering Holland was abysmal in the ALCS. And Holland went out and handcuffed the Cardinals for 8 1/3 innings. So now Washington is being questioned for using Holland in Game 6 in relief and going with Matt Harrison as the Game 7 starter. It's amazing how short-term memories rule the day.
Let us also realize Harrison wasn't that far from having a much better outing in Game 3. He was the victim of bad defense and a botched call in the top of the fourth inning when everything came unraveled. It's entirely possible that if Ron Kulpa made the correct call at first base and the defense was perfect behind him that Harrison comes away with a win.
With a 3.39 regular-season ERA, Harrison is no slouch. Plus, Holland will surely be in relief again -- he did a good job in relief in Game 6 after
Alexi Ogando
's pathetic effort. It would be foolish to count the Rangers out and it would be incredibly short-sighted to question Washington's decision on a Game 7 starter.
Then again, don't you have to like the Cardinals' chances when simply looking at Carpenter vs. Harrison?
PITCHING MATCHUP

Carpenter vs. Rangers:
In 13 innings this World Series, Carpenter has allowed 11 hits, four earned runs and three walks while striking out eight. He has been susceptible to the longball, as he's coughed up three homers. Both
Adrian Beltre
(4-for-8 with a home run) and
Mike Napoli
(4-for-8 with two home runs) have hit Carpenter well.
Elvis Andrus
,
Josh Hamilton
and
Michael Young
(all hitting .167 off Carpenter) do not.
Harrison vs. Cardinals:
All we have to go on was Game 3, and it was bad. Harrison was roughed up for five runs (three earned) on six hits in just 3 2/3 innings. The Rangers' pitchers would allow 16 runs in that game. There's no question the result was bad, but -- as stated above -- we have to keep it in context. The only Cardinals player who has more than one career hit off Harrison doesn't even play (
Gerald Laird
).
Allen Craig
has homered off Harrison while
David Freese
has doubled, otherwise it's just a bunch of three at-bat samples with a single or walk mixed in. There really isn't much to draw from.
LINEUPS
NOTES
• The Rangers have still not lost back-to-back games since August, but the Cardinals have refused elimination even under the most dire circumstances. Game 7 will mark the ultimate test and something absolutely will give. It's just a question of which team does so.
• Carpenter was hit pretty hard in his only other start on three days' rest: Game 2 of the NLDS against the
Phillies
and it's worth noting the Rangers have a much better offense than Philly.
• Rangers ace
C.J. Wilson
will be available out of the bullpen, just as Holland should be as well. For the Cardinals, expect
Edwin Jackson
and
Kyle Lohse
to be available if need be -- this time with their arms, not just bats.
•
Matt Holliday
is done, but Cruz and Napoli are both playing. It will be most interesting to see how Napoli's
ankle will react after being hyperextended
?
For more baseball news, rumors and analysis, follow @EyeOnBaseball on Twitter or subscribe to the RSS feed.