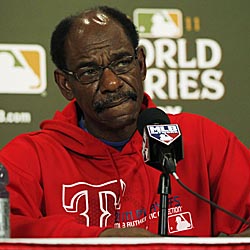 By Matt Snyder
ST. LOUIS -- With the unexpected night off,
Cardinals
manager Tony La Russa said he is finally going to see "Moneyball," the movie depicting A's general manager Billy Beane's approach leading up to and during the 2002 season. La Russa also gave a cautionary tale about being overly reliant on the walks part of on-base percentage.
"On-base percentage is one of the most dangerous concepts of the last seven, eight years because it forces some executives and coaches and players to think that it's all about getting on base by drawing walks, and the fact is that the guys that have the best on-base percentage are really dangerous hitters whenever they get a pitch in the strike zone," La Russa said.
La Russa was discussing how important it is for hitters to jump on the first pitch if it's a good hitter's pitch, because they might not see another good one to hit the rest of the at-bat. He wasn't saying he's against working the count or batters taking walks; instead saying that focusing too much on the walks might hurt the offense in taking too many good pitches to hit.
As far as the movie itself? "Brad Pitt is a great actor," La Russa said.
Rangers
manager Ron Washington is actually a character in the movie, most notably the one with the line "it's tremendously hard," after Beane (Pitt) said to Scott Hatteberg, "first base isn't that hard, tell him, Wash." Washington was also asked about the movie Wednesday, and he's already seen it. Did that exchange with Beane, Washington and Scott Hatteberg actually happen, or was it just a Hollywood throw-in?
"Yes, it did, but it happened in Phoenix," Washington said. The scene in the movie took place in Hatteberg's house before the A's even signed him, not spring training.
"I've always been a matter-of-fact guy, and I just point-blank told Hatteberg that it's going to be difficult."
Washington also acknowledged what the movie neglected to: "I realize they didn't mention
Eric Chavez
, Miguel Tejada, (Barry) Zito, (Tim) Hudson, (Mark) Mulder, but that wasn't what it was about."
For more baseball news, rumors and analysis, follow @EyeOnBaseball on Twitter or subscribe to the RSS feed.