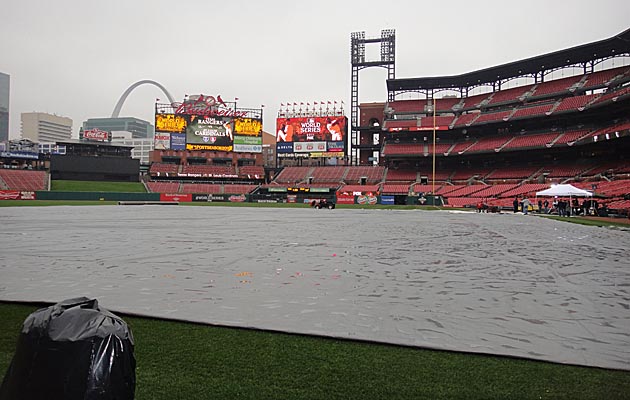 By Matt Snyder
ST. LOUIS -- Major League Baseball had a tough decision Wednesday. On one hand, the weather reports for the scheduled game -- Game 6 of the World Series to those who have been living under a rock for the past week -- looked bleak. Does the league take the chance that the game is marred by weather, like Game 1 of the ALDS between the
Tigers
and
Yankees
this season or, even worse, Game 5 of the 2008 World Series between the
Phillies
and
Rays
? On the other hand, what if the forecast is wrong and the league is embarrassed again, just like in Game 2 of the ALCS, when it was a sunny day when the first pitch was scheduled, but the game was postponed earlier that afternoon?
That was the issue facing Major League Baseball. Ultimately, it factored everything in and believed the prudent decision was postponement.
"You get to Game 6 of the World Series, and you want to guard -- as long as you have a forecast that we're expecting clear weather tomorrow, and if necessary the next day, I think that was more of a decision-maker than anything else, just the fact that we're anticipating rain during the game," MLB vice president Joe Torre said Wednesday afternoon.
"(The game was postponed) just basically for convenience," Torre said. "Because of the forecast there was no reason to wait any longer, and the earlier we can do it, the more people can change plans and do what they need to do, and including the players and managers, too."
Torre mentioned also that this next game being a possible clinching game of the World Series weighed heavily on the decision, again, teamed with the fact that the forecast for the next two days seems clear (
Weather.com's hourly forecast for Thursday night
, at this point, has a zero percent chance of rain throughout the game).
Torre also noted that the decision was entirely made by Major League Baseball officials, and that there was no input from either the
Rangers
or
Cardinals
.
"(Tuesday) I talked to both Wash (Rangers manager Ron Washington) and (Cardinals manager) Tony (La Russa) that if the forecast didn't get measurably better that we were probably going to call it early, and they were both understanding of it," Torre said. "They didn't offer any kind of strategy fight on it."
La Russa and Washington echoed that sentiment.
"No, I was given output," La Russa said. "I just picked up the phone, they said, 'The game's postponed.' No input."
"I want to play," Washington said. "I wasn't asked, but I want to play. But I understand the situation."
Rangers second baseman
Ian Kinsler
had a similar mindset to his manager.
"It's frustrating as a team," he said. "Same as the regular season, we wanna play every game when it's scheduled. But that's the way it goes."
"It's frustrating that you wanna get these games in because you have so much anxiety," Cardinals second baseman
Nick Punto
added. "There's an excitement to get ready for Game 6, and then they tell you to go home to be with your family and get ready to go tomorrow."
Despite the frustration at the weather, every player I heard from at least seemed understanding with the situation.
I think everyone would agree it's better to have the game played from start to finish with no delays to protect the integrity of the game. Most involved parties said as much, including Torre, La Russa, Washington and Kinsler.
So complain if you must, but realize there would be complaining if the game was interrupted for several rain delays, too. Major League Baseball was put in a no-win situation by bad weather, and decided to err on the side of caution. In a game as big as Game 6 of the World Series, we can't really ask for much more.
For more baseball news, rumors and analysis, follow @EyeOnBaseball on Twitter or subscribe to the RSS feed.