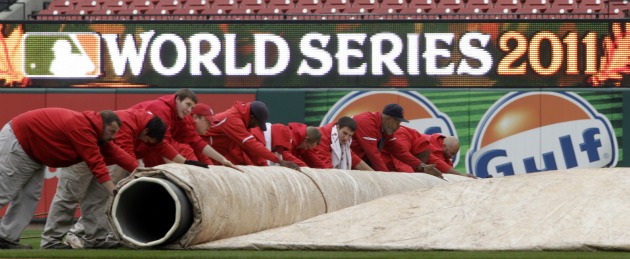 By C. Trent Rosecrans
I'm sure there will be plenty of people who complain that Bud Selig decided to bring rain to St. Louis on Wednesday, delaying Game 6 of the World Series for 24 hours. It does seem a questionable move by Selig, but perhaps he's just looking at history and hoping for a repeat of the greatest Game 6 in history.
Game 6 of the 1975 World Series was delayed not one, but three days, before one of the greatest games in the history of the spot was played.
Don Larsen threw his perfect game in Game 5 of the 1956 World Series, which is an amazing feat. However, he was actually pitching on short rest because his Game 2 start came after a one-day postponement of Game 2. Larsen lasted just 1 2/3 innings, allowing four unearned runs on one hit and four walks in his Game 2 start.
In 2008, Game 5 of the World Series between the Phillies and Rays was postponed with the teams tied 2-2 in the sixth inning at Citizens Bank Park, the first -- and only time -- in history a World Series game had been suspended. It was resumed two days later, with the Phillies taking the game, and the World Series title.
This is the 31st time in history a World Series game has been delayed due to rain. The last time a game was delayed before it began, the last was Game 4 of the 2006 World Series in St. Louis. This is the seventh time in history a potential clinching game has been postponed due to rain.
Twice games have been postponed three days -- 1976 and in 1962 when the Giants came back to win Game 6, but then lost Game 7 to the Yankees.
For more baseball news, rumors and analysis, follow @eyeonbaseball on Twitter or subscribe to the RSS feed.