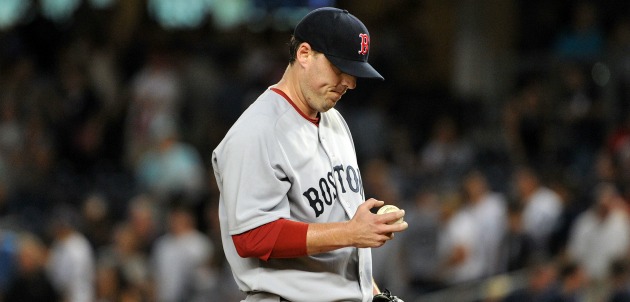 By Evan Brunell
In Ben Cherington's
introductory news conference
, the new
Red Sox
GM said that
John Lackey
will need Tommy John surgery, which knocks him out for the entire 2012 season.
"He had some intermittent elbow soreness throughout the season," Cherington said. "After more consultation with Dr. Yocum, John has decided to go ahead with Tommy John surgery. We're waiting on a surgery date, but I talked to him the other day, and he's really excited about the future, certainly anxious about the surgery and getting that done and the rehab, but knows that he's a much better pitcher than what he showed in 2011. I believe he's going to be a much better pitcher than what he showed in 2011, and we look forward to having him as part of the staff, likely in 2013."
This move comes as a major surprise, but Peter Gammons was on the ball back in late June when he
said on WEEI
that there was significant concern about Lackey's health and how it's translating to on-field performance. Lackey recently finished a brutal 2011 with a 6.41 ERA in 28 starts, leading baseball by giving up 114 earned runs.
"I've had indications that there are some questions about just how healthy [Lackey is]," Gammons said back in June. "We know he was disabled with the elbow problem." Gammons said Lackey may need Tommy John by August, despite his elbow not being significantly different in MRIs compared to when he signed with the Red Sox prior to the 2010 season. (Lackey, when asked about Gammons' quotes, told
ESPN Boston that
"He straight made that up." Apparently not.)
Lackey will miss the entire season with Tommy John surgery, joining
Daisuke Matsuzaka
on the shelf. Dice-K also underwent Tommy John surgery early in the season and is not expected to return until at least the midway point of 2012, if not later. With both Matsuzaka and Lackey on the shelf, Boston will have work on its hands to round out a rotation that so far, will include
Josh Beckett
,
Jon Lester
and
Clay Buchholz
. It appears likely that
Alfredo Aceves
will become a starter after a successful year out of the bullpen as a long reliever.
As for additional pitching depth, Cherington didn't sound as if he was terribly interested in going out and paying for a big starter. "Most likely we'll do that through some good, creative buy-low acquisitions," he said.
However, if Cherington changes his mind and goes after free-agent starter
C.J. Wilson
or possible Japanese import Yu Darvish, he'll have more money to work with. Lackey's surgery means his sixth-year option for the league minimum salary will kick in, which lowers his average annual value by $2.7 million. Lackey's original contract was for five years and $82.5 million, which works out to $16.5 million a year. That number will now be reduced about $2.7 million per year on the conditional option Lackey agreed to upon signing, in which he agreed to play in 2015 for the league minimum should he miss time at any point from 2010-14 for a pre-existing elbow injury. That's a significant amount which could mean the difference between sitting at home in October and the ability to acquire a quality player that can put Boston in October.
For all news, check out the CBSSports.com free agency tracker.
For more baseball news, rumors and analysis, follow @EyeonBaseball on Twitter or subscribe to the RSS feed.