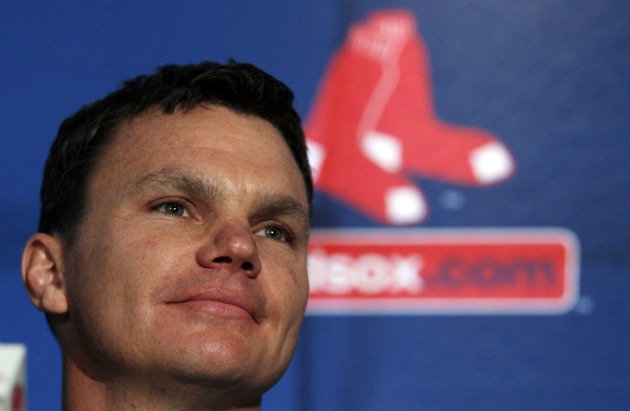 By Evan Brunell
Ben Cherington has been announced as the new general manager of the
Red Sox
, replacing Theo Epstein. In his news conference, Cherington said he "developed a passion for baseball and the Red Sox" during his time in baseball.
"I feel like I've been preparing for this job since my first job in baseball," he added.
Epstein was
announced as president of baseball operations
for the
Cubs
earlier Tuesday, allowing Cherington to take the reins as GM officially after being de-facto GM for the last two weeks. Cherington was joined in a news conference by president Larry Lucchino, but not ownership. This speaks to the fact that Lucchino will probably gain more influence now that Epstein has left, as the president lost much of his influence when Epstein resigned as GM in 2005 over a dispute with Lucchino. This is not necessarily a bad thing, but it will be interesting to see how the dynamics play out. For his part, Lucchino said there was "no one more prepared" to take over as GM in a statement prior to the news conference and that "he will hit the ground running, in full stride, and no one will outwork him."
Cherington began by wishing his former boss "great fortune in his next venture" and noted that he is not similar to Epstein in that he can't play the guitar, nor does he own a gorilla suit, hearkening back to how Epstein sneaked out of Fenway and avoided reporters when he resigned in 2005.
Cherington, who is considered a patient, as opposed to Epstein who has a reputation for being impatient, may have taken a shot at Epstein by saying that you "have to walk the walk, not just talk the talk, on our due diligence in the decision-making process." Cherington said that the free-agent signings in recent years haven't been good enough. He also wants to be active in acquiring international talent, wanting the best players from around the world.
Earlier on Tuesday, Epstein spoke bout Cherington's readiness to take over the role,
mentioning in an op-ed piece
for the
Boston Globe
that Cherington had been discussed as his successor this summer, with an initial plan of Epstein departing after 2012. "If not for the complete confidence I have in Ben... I could not in good conscience leave the organization at this time. But there is no one in baseball more qualified to be the next general manager of the Red Sox.
"Ben is infinitely more prepared than I was when I took over nine years ago. He's been an area scout, an international scout, an advance scout, a farm director, and he's supervised drafts. Ben is honest and insightful, fearless and friendly - and he is ready to lead this organization forward."
Cherington, a New Hampshire native, has been with the Red Sox for 13 seasons and had served as assistant GM since January 2009, ascending to the role when Jed Hoyer became GM of the
Padres
. Cherington and Hoyer also served briefly as interim GM when Epstein resigned in 2005. Prior to his role, he oversaw the farm system including developing such players as
Daniel Bard
,
Clay Buchholz
,
Jacoby Ellsbury
and
Jed Lowrie
.
Speaking of the farm system, Cherington believes the Red Sox system is "stronger and deeper than ever," although he did admit much of the talent is low. Boston's high minors have entered a bit of a fallow period as part of a cycle, but the low minors is highly regarded, even after dealing away several top prospects for
Adrian Gonzalez
prior to the season.
The 37-year-old also addressed the 2011 team, saying the team is eager to move on. "I believe there's a great motivation [on the part of the players] to clean up whatever does need to be cleaned up. ... We are going to have a very good team in 2012."
However, Cherington did caution that things might change moving forward. Not necessarily because what was done previously was incorrect, or even a difference of opinion, but because "what's going to work moving forward is not necessarily what's worked in the past."
Cherington did mention that Boston's pitching depth has to improve, and "most likely we'll do that through some good, creative buy-low acquisitions." With
Daisuke Matsuzaka
recovering from Tommy John surgery and unlikely to return until midway through 2012 at the earliest and now
John Lackey
needing
his own Tommy John surgery
which will knock him out for all of 2012, the Red Sox will have their work cut out for them in addressing the rotation. Cherington also said the team needs a right-handed outfielder, and spoke about
Carl Crawford
, saying time would need to be spent with the outfielder this offseason. Crawford, who signed a seven-year, $142 million deal prior to 2011, had an awful season and then heard his owner, John Henry,
saying he didn't support the move
.
"I was one of the strongest proponents of signing Carl Crawford, Cherington said. "I believe in him."
Regarding the search for a new manager, Cherington said the team will move "swiftly" but pointed out that Francona was not hired until Thanksgiving in 2004, so we could be in for a bit of a process. "I want a manager who has a strong voice," he said. "We need the right person."
For more baseball news, rumors and analysis, follow @EyeonBaseball on Twitter or subscribe to the RSS feed.