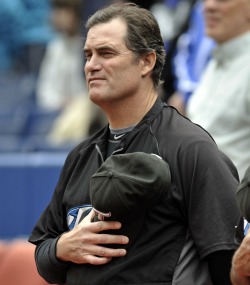 By Evan Brunell
In light of
recent rumors that could have
had Toronto manager John Farrell moving to a similar position with the
Red Sox
, the
Blue Jays
have altered their policy dealing with organizational change, the team said in a
statement courtesy MLB.com
.
"Due to the distraction caused by media speculation regarding our employee permission policy, the Toronto Blue Jays have amended their policy and will not grant permission for lateral moves," GM Alex Anthopoulous and president Paul Beeston said in a joint statement.
Previously, Toronto had no restrictions on anyone interviewing for another job in an organization, including lateral moves. Now, Toronto will not allow lateral moves, which cuts off Farrell's ability to become Sox skipper. Unless, as
Angels
broadcaster
Victor Rojas jokes
, the Red Sox name him "president of clubhouse operations," a joke as to how ex-Red Sox GM Theo Epstein became president of baseball operations in Chicago, instead of simply president.
Anthopolous later told
Sportsnet.ca
that the change wasn't made to combat the Red Sox specifically, but was also used to address future rumors on Farrell -- if not himself.
"Because of the way the policy was set up, we'll always be open to rumors and speculation and, ultimately, it has become a distraction for the club," he said. "In terms of fear to lose someone to a lateral move, there isn't a fear because again, I point back to what the policy is going forward. There's no fear at all because we have a policy in place."
Beeston told Anthopoulous that the previous policy, which allowed anyone to interview for any job at any time, "wasn't working," so a new policy was drawn up. It will allow the club to refer to the policy moving forward and not get into specifics, as well as avoid e-mails, which he said inundated the club over the last couple days following a Boston Globe report that Farrell might be hired as the new Sox manager.
Farrell
addressed reports of moving
to the Red Sox on Monday, saying he was "focused right now on preparing for what is best for the Blue Jays in 2012."
For more baseball news, rumors and analysis, follow @EyeonBaseball on Twitter or subscribe to the RSS feed.