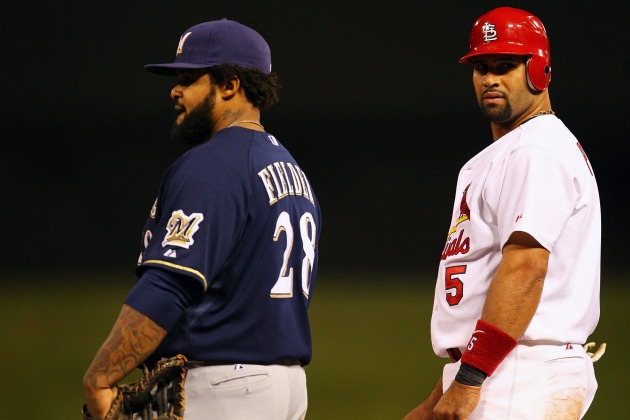 By Evan Brunell
For all news, check out the CBSSports.com free agency tracker.
The first-base crop of free agents is extremely top-heavy, boasting the best player in the game in
Albert Pujols
. Even without Pujols, the first-base list would still be star-studded, as 27-year-old
Prince Fielder
is also hitting the market and should command a sizable deal. However, after that, it drops off significantly, and by the end of the top 10 list, we're looking at someone who hit .194.

1. Albert Pujols
: What more can you say about Pujols that hasn't been said already? He's the best hitter the 21st century has seen, and he may hold that mantle for quite a while. Pujols may be 31, but that shouldn't stop him from commanding a hefty contract given his strong bounceback after starting the year poorly, plus his dazzling defense. There's been a lot of talk about Pujols' failings in dealing with the media, but neither Pujols nor whichever team he ends up with will care much about his approach to the media. The team will care about homers. Pujols will care about money and winning. The media is just a sideshow.
Potential teams
:
Cardinals
,
Cubs
,
Blue Jays
,
Dodgers
,
Mariners
,
Nationals
,
Orioles
, and because they have money:
Yankees
,
Red Sox

2. Prince Fielder
: Fielder is four years younger than Pujols, but he'll struggle to match what Pujols gets -- not just because Pujols is an elite, once-in-a-generation hitter (which, admittedly, Fielder could become), but because there are conditioning issues with his weight that lend comparisons to a late-career breakdown like Mo Vaughn. However, the lefty has appeared in 485 of a possible 486 regular-season games over the last three years, so it's hard to get too worked up about it. He's going to have a robust market and may even sign in advance of Pujols.
Potential teams
: Same as Pujols -- Cardinals, Cubs, Blue Jays, Dodgers, Mariners, Nationals, Orioles, and because they have money: Yankees, Red Sox

3. Carlos Pena
: Pena can hit balls a long way. It's too bad he can't make contact regularly. But there are far worse first-baseman one could have, and getting a 30-homer player with strong defense and leadership skills is something most teams will kill for; Pena will get a healthy contract this year wherever he ends up. Whichever teams lose out on Pujols and Fielder will gun for Pena, so his market figures to be late-developing and it may be into January before he signs anywhere.
Potential teams
: Cubs, Dodgers,
Rays
,
Brewers
, Cardinals, Cubs, Orioles,
Indians
,
Twins

4. Derrek Lee
: It looked as if Lee was heading the way of
Vladimir Guerrero
and the other aging power-hitters as of late after beginning the year in a tough spot with Baltimore. Fortunately for Lee, he got dealt to the
Pirates
at the trade deadline and that reinvigorated him to the point where he should be able to scrape up a starting job somewhere this winter, although Lee may struggle to land with a top-flight contender. The Pirates would like for Lee to return to the team, but unless the Pirates offer one of the only starting jobs in the game, it's tough to see the righty returning.
Potential teams
: Dodgers, Pirates, Rays, Brewers, Cardinals, Cubs

5. Casey Kotchman
: Kotchman was once a promising up-and-coming first baseman that was part of a
Mark Teixeira
trade, heading to Atlanta from Los Angeles. That's where his career frayed, and the Red Sox picked him up on a lark. No go. After a forgettable 2010 in Seattle, Kotchman somehow bounced back in Tampa Bay to rake up a .308/.372/.422 line. However, batting average seems to be what's driving Kotchman, and that's one of the least predictive statistics anyone can use. This upcoming season will determine a lot for Kotchman and his future, but no one should invest heavily in him. Unfortunately, after the year he had and with the poor free-agent class, he could haul in a sizable deal.
Potential teams
: Rays, Dodgers, Pirates, Brewers, Cardinals, Cubs,
Astros
, Indians, Orioles

6. Jason Giambi
: Giambi had a fantastic season as a pinch-hitter for the
Rockies
, helping to soften the blow when
Todd Helton
needed out of the lineup. Giambi smashed six doubles and 13 homers in just 152 plate appearances, an absolute wrecking ball off the bench. Who really knows what teams Giambi would sign with, but he'll certainly get plenty of offers to choose from. Wherever he lands, it'll be as a bench player although depending where he ends up, he could be in line to get at least 200 at-bats for the first time since 2009.
Potential teams
: Rockies, Yankees,
Athletics
,
Phillies

7. Lyle Overbay
: Overbay looked cooked as a starting first-baseman, but a resurgence in Arizona after leaving Pittsburgh will help matters significantly, even if he played in just 18 games for the Diamomdbacks. A team desperate for a stopgap at first base could entice Overbay, but it figures that his biggest market will come as a platoon first-baseman. A return to Arizona to mentor and play behind
Paul Goldschmidt
makes sense. If he wants a shot to start, it'll be with a team that doesn't quite harbor postseason aspirations -- but things have a funny way of working out once options dwindle.
Potential teams
: Rays, Orioles, Phillies,
Mets
, Brewers, Cardinals, Pirates, Astros, Dodgers,
Diamondbacks
, Rockies,
Padres

8. Ross Gload
: Gload, whose career got a late start, has been plying his trade in the NL the last three seasons, primarily as a pinch-hitter for Philadelphia over the last two years. The first-baseman actually led the NL in pinch-hits in 2011, although you wouldn't know it given his poor statistics. Gload should have no problem getting a pinch-hit gig somewhere in the senior circuit this offseason and might even be enticed back to the AL if he can get a decent amount of playing time. Gload and the remaining names on the list could conceivably end up with any team, as their role would fit virtually anywhere as a backup.
Potential teams
: Any team

9. Russell Branyan
: Branyan is a retirement candidate. At age 35, he took a significant step back as his trademark power was missing all year. While his .197 batting average isn't all that far from his .232 career average, that's not why teams kept playing him. No, Branyan got at-bats because of his power, but he only banged five homers and seven doubles in 146 plate appearances all season. Branyan hit 56 homers combined from 2009-10, so teams will still be willing to give him a shot. He could be entering the phase of his career where he hangs on for a few more season as a pinch-hitter in the NL.
Potential teams
: Any team

10. Jorge Cantu
: Cantu's going to have a lot of trouble securing a major-league deal after the awful season he had, appearing in just 55 games for the Padres and hitting .194/.232/.285 before mercifully being released and finishing out the year in the Rockies' minor-league system. It's quite the fall for the 29-year-old who hit 29 homers in 2008. Over the last two years, Cantu has regressed significantly and will have to play his way onto a team this spring on a minor-league cont
Potential teams
: Any team
Others that could be first basemen:
Mark DeRosa
,
Edwin Encarnacion
,
Eric Hinske
,
Conor Jackson
,
Xavier Nady
Juan Rivera
,
Nick Swisher
,
Josh Willingham
.
Free-agent position rankings:
C
|
1B
| 2B | SS | 3B | OF |
DH
|
SP
|
RP
For more baseball news, rumors and analysis, follow @EyeonBaseball on Twitter or subscribe to the RSS feed.