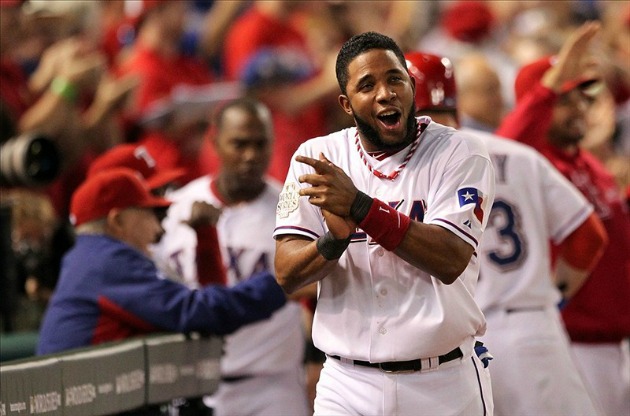 By Matt Snyder
ARLINGTON, Texas -- The
Rangers
took a pivotal Game 5 of the series with a 4-2 victory Monday night. Let's hand out some grades yet again.

Mike Napoli
was obviously an A, but we're already covered him ... twice. There's no need to go overboard with the love-fest, so I'm going off the board. True baseball fans have been winning all series, because it's been an amazing series; one of the best since the epic 2001 clash between the
Yankees
and
Diamondbacks
. So we'll give
both teams an A for the entertainment
so far. Speaking for myself only -- and I still consider myself a fan -- I'd like to thank both teams and tell them to keep it up. This is outstanding. We've had close games, huge hits, great defensive plays, a historic performance by
Albert Pujols
and a near-historic performance by
Derek Holland
. I just can't say enough about how great this series has been. And we may get two more games. We'll see, but it's hard to fathom this thing getting boring.

A huge reason the Rangers came into the series so hot was the bridge
Alexi Ogando and Scott Feldman
were providing to the eighth inning. But then both had been bad so far in the World Series -- pretty awful, in fact -- leaving a big question mark on what was supposed to be one of the Rangers' strengths. Maybe the rest provided by Holland in Game 4 helped, because while neither were sparkling Monday night, the decent outings had to be encouraging. Ogando allowed two hits and three walks in his inning, but two of those walks were intentional and his stuff looked more crisp. Feldman gave up a hit upon entering the game, but then got two big outs to end a threat, including a big strikeout.

The
Rangers' defense
has seemed a bit fickle this entire series, even if you can tell how much ability they have. The bad and good pretty much cancelled each other out Monday.
David Murphy
couldn't pick up a ball in the second, allowing
Lance Berkman
to advance to third. Then Berkman scored because
Mitch Moreland
botched what probably should have been a double-play ball. Of course, Murphy then made a spectacular diving catch to get out of the inning. Next inning, Moreland and
C.J. Wilson
teamed up to look like the Bad News Bears on a Furcal single, but a beautiful double play ended the inning. Later in the game,
Elvis Andrus
should have robbed
Yadier Molina
of a hit with an incredible across-the-body jump and throw, but Moreland couldn't dig the throw at first. But then in the seventh and the ninth, Napoli hosed
Allen Craig
at second on stolen base attempts.

Cardinals
manager
Tony La Russa
claims he called for "Motte" and not "Lynn" in the eighth inning, but, in the noise of the ballpark, the bullpen coach inadvertently heard "Lynn" and got the wrong guy up to throw. So La Russa didn't have the guy he wanted ready to face Napoli in that huge spot in the bottom of the eighth. He wanted
Jason Motte
, but
Lance Lynn
was in the bullpen. So La Russa kept left-hander Marc Rzepcyznski out there, who gave up the game-losing double. Considering Washington said "yes, I've had that happen before," about the phone gaffe, we'll grant La Russa a pass and only give him a D for the mishap. Still, isn't there something the Cardinals could have done there instead of letting a left-handed specialist face one of the most dangerous hitters in the lineup?

The Cardinals ability to take advantage of baserunners
was abysmal. They left 12 men on base, including eight in scoring position. They also had Craig thrown out twice on stolen base attempts. Seven hits, nine walks and a hit-by-pitch ... and two runs is all you come up with? That's awful. Easiest F I've ever given.
Matt Holliday
, if I can single someone out, needs to bring a lot more to the table, or Pujols isn't going to see a pitch worth swinging at the rest of the series.
For more baseball news, rumors and analysis, follow @EyeOnBaseball on Twitter or subscribe to the RSS feed.