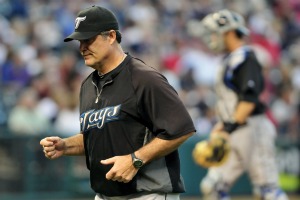 By C. Trent Rosecrans
You may not have heard about this, but currently the Boston Red Sox don't have a manager for 2012. That fact has led to plenty of speculation, including a report in the Boston Globe on Sunday that Blue Jays manager John Farrell is the team's first choice to replace Terry Francona.
There is, of course, the small matter that Farrell is under contract with the Blue Jays. for two more years
"I have no idea and no comment on what's happening in Boston," Farrell wrote in an email to sportsnet.ca. "I am focused right now on preparing for what is best for the Blue Jays in 2012."
The Blue Jays have a standing policy of allowing its employees to talk to other teams at any time about other positions -- even lateral moves. The team also refuses to comment about such matters, so general manager Alex Anthopulos declined to comment about the Globe reports.
Farrell served as the Red Sox pitching coach from 2007 to 2010, so the Red Sox are familiar with him and the Globe report said he was always seen as the eventual successor to Francona in Boston, but he left after last season to take the Blue Jays job. He finished his first season as a manager 81-81, fourth in the American League East.
For more baseball news, rumors and analysis, follow @eyeonbaseball on Twitter or subscribe to the RSS feed.