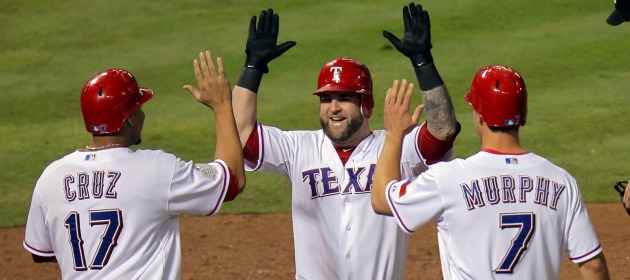 By Matt Snyder
ARLINGTON, Texas -- The story was
Derek Holland
, but the
Rangers
gave a full team effort Sunday night in evening up the World Series at two wins apiece. Here are some of the post-game notes and quotes from Rangers Ballpark.
•
Mike Napoli
will get plenty of credit for his offense this series, and rightfully so. But I was thinking ... back in Los Angeles,
Angels
manager Mike Scioscia used to justify playing
Jeff Mathis
over Napoli on a regular basis because of "catcher's ERA." You know, the ERA of the pitching staff with a certain catcher behind the plate. It's one of the main reasons the Angels let Napoli's bat go. Napoli's catcher's ERA this World Series? 1.38.
Yorvit Torrealba
's? 13.00. Of course it's a small sample, but it's worth noting: The Rangers pitchers don't exactly seem to get worse with Napoli behind the plate.
•
Something you didn't see on TV: The Rangers took the field in the top of the ninth inning without a pitcher for a while. Eventually, Holland emerged from the dugout and the crowd erupted.
• "I've seen it before, this was not the first dominant outing that Derek Holland had," Rangers manager Ron Washington said. Fellow starter
Colby Lewis
expressed the same sentiment in the locker room to a reporter who asked if it was the best Holland's ever pitched. People seem to be either forgetting or just ignorant to the fact that Holland threw four shutouts this year, including three in July. This wasn't the worst pitcher ever finding some magic out of the blue. It was just Holland digging deep and pitching to his potential.
• "If you wanna stay out here, you get on your knees." - Washington, on what he said to Holland when removing him from the game in the ninth. A complete-game shutout from Holland would have marked the first World Series shutout from an AL pitcher since Jack Morris in 1991.
• It's no secret
Lance Berkman
is a much better hitter from the left side of the plate, but it's been a different story in the World Series. He's evidently locked in from both sides of the plate. going 4-for-8 as a right-hander and 3-for-7 as a left-hander.
• "He worked us over, give him credit." -
Cardinals
manager Tony La Russa on Holland's performance.
• The 51,539 in attendance were a Rangers Ballpark season high, and the seventh-most in stadium history.
• "I wanted to execute all my pitches, that was the main thing," said Holland. "I wanted to go after these hitters. I wanted to show that I belong here. That was the main thing, I wanna make a name for myself. At the same time, I wanna get momentum back on our side."
• "I was looking up, and I got a pitch up that I could handle," Napoli said of his three-run shot.
• "I thought it was a double play waiting to happen," La Russa said of bringing in
Mitchell Boggs
to face Napoli.
• Napoli became the first catcher with a multi-homer World Series since Mike Piazza of the
Mets
did so in 2000.
For more baseball news, rumors and analysis, follow @EyeOnBaseball on Twitter or subscribe to the RSS feed.