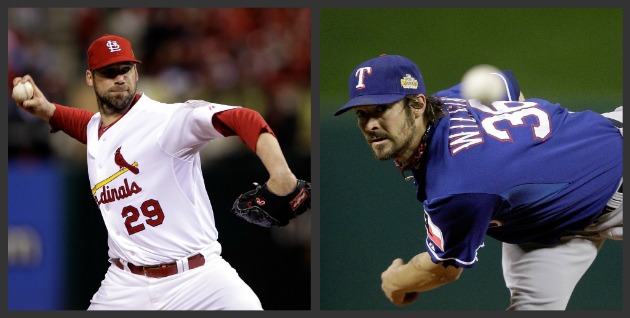 By Matt Snyder
Rangers at Cardinals, 7:05 p.m. CT, Rangers Ballpark, Arlington, Texas. Series is tied, 2-2.
ARLINGTON, Texas -- It's rematch time. Game 1 pitted aces
Chris Carpenter
and
C.J. Wilson
against each other and ended up an exciting 3-2 Cardinals win. The two aces will square off again in a pivotal Game 5, this time in the hitter-friendly Rangers Ballpark.
Carpenter bested Wilson last time around, working six innings while allowing five hits and two earned runs. Wilson went 5 2/3, giving up four hits and three earned runs, but the six walks were a bit troubling. Wilson is only looking forward, though.
"I think you have to look at every start as in its own little bubble," he said. "There's nothing I can do to un-lose a game."
Carpenter got the best of this matchup last time out, but the biggest part of that start could have been that he only threw 87 pitches, as he had reportedly been dealing with elbow soreness. Carpenter himself doesn't think that matters, though.
"I felt fine, and the pitch count situation isn't -- it doesn't matter -- I believe it doesn't matter if you throw 120 or 80, or whatever. It's the quality of pitches and the difficulty of the stressful pitches that you throw," he said. "There wasn't a whole lot of stressful pitches for me. It was a battle, but I was able to get through it pretty well, and I feel fine. I felt great throughout the last few days."
The starting pitchers are important, but don't discount the offense and defense. The Rangers have played great defense in their two wins, but pretty horrible defense in Game 3. The Cardinals offense was pretty dormant in their two losses. With aces on the hill in a great hitter's park, a true team effort is going to determine who heads to St. Louis just one game away from winning the 2011 World Series.
PITCHING MATCHUP

Wilson vs. Cardinals:
Just as we've seen throughout the series between these two unfamiliar teams, the sample sizes are very small across the board. Wilson has faced
Lance Berkman
21 times and held him down pretty well (.235 average, .294 slugging percentage). Otherwise, only
Nick Punto
has faced Wilson more than four times -- and Punto has a .667 OBP. Expect him in the lineup.
Carpenter vs. Rangers:
His regular-season history against the Rangers is awful. Carpenter is 2-6 with a 7.26 ERA in those 12 outings (11 starts). He's 2-2 with a 6.99 ERA and 1.91 WHIP in Rangers Ballpark, too. A lot of those stats were accumulated a long time ago, though, because Carpenter hasn't faced any current Rangers starters more than 10 times (
Michael Young
has exactly 10 plate appearances against Carpenter).
Adrian Beltre
(3-for-5 with a double) and
Mike Napoli
(4-for-5 with two home runs and five RBI) own him in small sample sizes, however.
LINEUPS
NOTES
• Wilson is much worse in Rangers Ballpark than on the road. He had a 3.69 ERA and 1.23 WHIP at home versus a 2.31 ERA and 1.15 WHIP on the road during the regular season. Considering the more favorable hitting conditions this time around, things don't bode well for Wilson Monday night. Then again, games aren't won on history or paper. Just ask
Derek Holland
.
• Matt Holliday is now 2-for-15 (.133) with four strikeouts in the World Series.
• Adrian Beltre has now made five straight outs after gathering five straight hits.
• The only lineup change for either team is Schumaker taking over center field from
Jon Jay
. The move is very clearly due to Jay's major struggles at the plate this series. He's 0-for-14 in the World Series. Schumaker has never faced Wilson, nor has he ever batted in Rangers Ballpark.
For more baseball news, rumors and analysis, follow @EyeOnBaseball on Twitter or subscribe to the RSS feed.