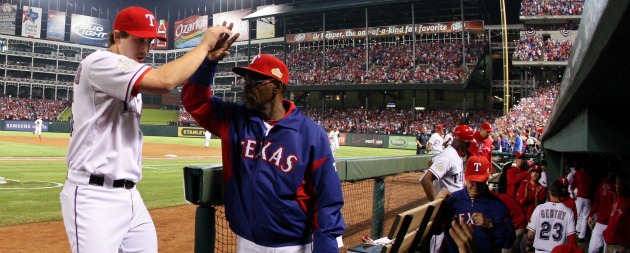 By Matt Snyder
ARLINGTON, Texas -- The "A" grade here isn't really going to shock you. But just because it's obvious doesn't mean it's not true.

Derek Holland
was just dazzling. We knew he was capable of this because he threw four shutouts this season -- including a stretch of three shutouts in five starts during July -- but we just hadn't seen it for a while. So Holland gave a refresher. He located his 95-mph fastball and impressively commanded his breaking pitches. It's funny, if you didn't watch the game, his line -- 8 1/3 innings pitched, two hits, two walks, seven strikeouts -- almost doesn't do him justice. But, if you did watch the game, and had never even seen or heard of Holland before, you'd have thought he was a Cy Young candidate. This against a
Cardinals
offense that obliterated the
Rangers
Saturday night. The best part was preserving the stressed Texas bullpen.

We'll go with
Neftali Feliz
here. He came on and walked
Allen Craig
, which brought
Albert Pujols
-- you may have heard something about his power following Saturday's game -- to the plate with two on and one out. That's bad. But then Feliz got a soft lineout from Pujols and struck out
Matt Holliday
to preserve the victory.

I've held off long enough. We're going with
Ron Washington's lineup
here. It worked out in Game 4 because
Josh Hamilton
doubled in
Elvis Andrus
in the first inning and then
Mike Napoli
came through with the big blow in the sixth. But, seriously, opposing pitchers have to be much more fearful of the Beltre/Cruz/Napoli portion of the order than the 2-3-4 spots at this point. Beltre didn't have a good game Sunday night, but collected four hits Saturday. Napoli and Cruz have to scare the daylights out of Cardinals fans with their prodigious power, too. Meanwhile, Andrus is being asked to bunt
Ian Kinsler
over in the fifth inning. Why not get to the power earlier in the lineup and give those guys more at-bats? Napoli batting eighth just doesn't make any sense at all.

Edwin Jackson
could have been much worse, but seven walks in 5 1/3 innings is pretty bad. He at least saved the bullpen from having to work as hard as it did following
Kyle Lohse
's bad outing in Game 3. Still, Jackson was so inefficient due to his lack of command that he couldn't get through six. And, again,
seven
walks. Man, that's bad. But only three earned runs in 5 1/3 innings isn't near as F-worthy as ...

The Cardinals offense
followed up a historic performance in Game 3 by being shut down. I'd particularly shine the flashlight on Pujols and Holliday. The duo of All-Stars is among the best 3-4 combos in baseball, but they combined to go 0-for-8 with two strikeouts and four men left on base in Game 4. This came against a left-hander, too, who is much worse against righties than lefties. The entire offense -- other than
Lance Berkman
, who gathered the Cardinals' only two hits -- deserves an F here, but the big names need to be held the most accountable.
For more baseball news, rumors and analysis, follow @EyeOnBaseball on Twitter or subscribe to the RSS feed.