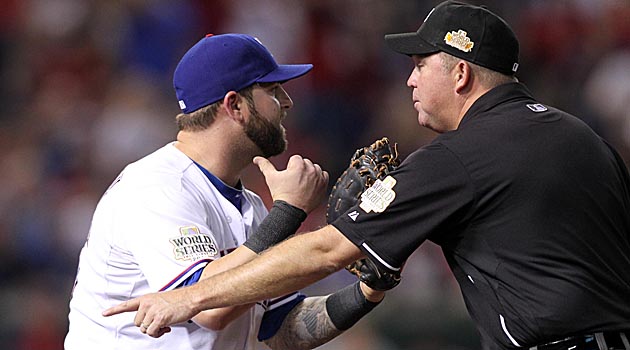 By Matt Snyder
ARLINGTON, Texas -- In light of the botched Ron Kulpa call at first base in Game 3, discussion of expanded instant replay has once-again ramped up.
As a refresher, here's a GIF of the play,
courtesy of SB Nation
: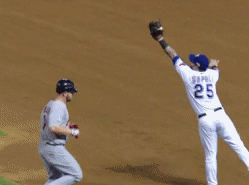 Rangers
manager Ron Washington,
Cardinals
manager Tony La Russa and Major League Baseball's vice president of baseball operations Joe Torre spoke with the media before Sunday night's Game 4 on the matter.
"All I want is to get the play right, that's all," said Washington. "And sometimes umpires don't get it right, and there's nothing you can do about it.
"You know, we brought in instant replay for the home run. I think in the World Series, for plays like last night, maybe we can find a way to get the play right."
And he's right. We can't be sure of what the perfect system would entail in baseball just yet, but there's far too much technology at our disposal to allow an easily correctable call to just stand and move on -- especially when the umpire himself knows he messed up.
"Ron Kulpa came in, and I was in the umpires' dressing room afterwards, and he walked in. The first thing out of his mouth was that he had to see the play. He said, 'I missed it, did I miss it?'" Torre said, also adding that anyone questioning Kulpa's integrity -- he's a born-and-raised St. Louis native -- is crossing the line.
And I agree with Torre. Kulpa absolutely nailed the biggest call of Game 2 when he called
Ian Kinsler
safe on a ninth-inning stolen base. If he was in the bag for the Cardinals, he calls Kinsler out. It's very simple. So the focus should be entirely on replay, not Kulpa's honest mistake.
La Russa seems to feel Kulpa's pain, as well as any other umpire who has made an honest error and been vilified for it.
"My two cents is more in favor of looking at it. I think, as long as it doesn't affect the game as far as slowing it down, I think the umpires are -- it's unfair," La Russa said, when discussing that he'd like the umpires to get more help and take less blame. "And if there's a way to ease that burden, some limited additions are going to be discussed, and we'll see where it goes."
When asked if there was a chance that MLB would implement further replay measures, Torre seemed to give a bit of a contradictory message.
"Well, I'd say drop it, but I don't want people to think that we're stubborn about this," Torre said. He later noted that he's worried about delays.
"To me, wholesale replay, I think is going to disrupt the flow of the game. That's just my opinion. Am I old school? Yeah, I am old school, but I'm not ignoring the new technology that's available to us, and we're going to do everything we can to make the game better."
Only by refusing to implement simple additional measures -- even if only in the postseason -- MLB is certainly ignoring new technology. And what about the delay when a manager argues with the umpire? In a replay system, it's possible they just challenge a play or whatever the system might be instead of a five-minute argument delay.
"That's certainly legitimate," Torre said when asked about the time spent arguing calls. "That question is certainly legitimate, but they're not all going to be that clear-cut. Again, it's still not going to keep the manager from arguing, it's not going to keep the player from arguing before you go to replay."
And, again, I'd ask why they can't just review and overturn the clear-cut plays and ignore the close ones? Torre might say they don't want to be stubborn, but it's pretty evident Major League Baseball is being very stubborn on the use of video replay, at least for now.
For more baseball news, rumors and analysis, follow @EyeOnBaseball on Twitter or subscribe to the RSS feed.