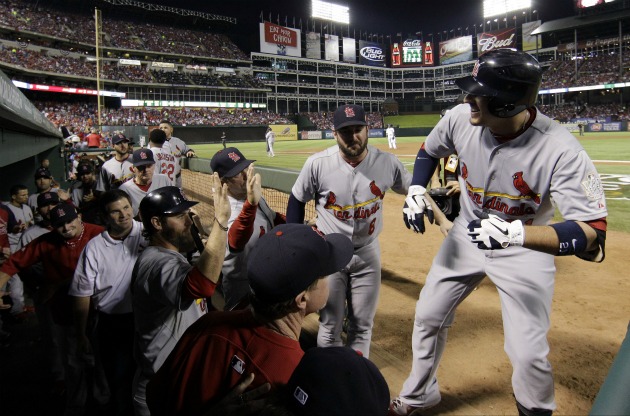 By Matt Snyder
ARLINGTON, Texas -- The
Cardinals
took Game 3 of the World Series with some pretty huge offense. Here are some of the post-game notes and quotes from
Rangers
Ballpark.
• Don't forget about
Allen Craig
. He had two huge hits in the first two games of the series and then hit a home run in his first at-bat of Game 3. As we noted in the Game 3 preview, the designated hitter actually gives the NL team the advantage in this series, as the Cardinals can get Craig's bat into the lineup, while the Rangers only get to add the likes of either
Yorvit Torrealba
or
Mitch Moreland
. The Rangers have a sick lineup, too, but seeing Craig,
Albert Pujols
,
Matt Holliday
,
Lance Berkman
and
David Freese
through the thick of the lineup is pretty imposing.
• Yes, first-base umpire Ron Kulpa is a born-and-raised St. Louis-area resident. I'm sure plenty of fans will latch onto that in the coming days and find it means that he had bias on the play. It's a ridiculous notion because, first of all, Kulpa was accountable for his mistake. "I saw a replay when I walked off the field, and the tag was applied before his foot hit the bag," he said after the game. If there was a hidden bias, he probably wouldn't own his mistake.
Secondly, if you still think he made the errant call on purpose, you're gonna have to explain why he called
Ian Kinsler
safe on a bang-bang play in Game 2. If Kulpa was in the bag for the Cardinals, he could have easily called Kinsler out and the Cardinals would have likely won that game, too.
• Should Kulpa have asked for help? "No. On that type of play, I'm not going to ask for help. Ron (Washington) didn't ask me to get any help, either."
• Rangers manager Ron Washington on the call: "Well, he missed the play, and I knew he missed the play when I went out there. We still had an opportunity to get off that field with maybe them just pushing one run across the plate. We just didn't make the plays. I mean, I don't think you can just start all of a sudden making excuses about things. We had a chance to get off the field with them scoring one run in that inning right there, and we just threw the ball around in that inning, and it really messed up Harrison's outing because he was throwing the ball well."
• Neither
Josh Hamilton
nor the Rangers will say much about it, but when he had to throw on the brakes at third base in the bottom of the fifth inning, that had to have hurt his tweaked groin. Nothing brings out pain in leg muscle injuries like having to stop on a dime from full speed.
• "The thing I liked best was that he was working good counts all night," hitting coach Mark McGwire said to a handful of reporters in the hallway after the game of Albert Pujols' performance.
• Mavericks star Dirk Nowitzki on throwing out the first pitch: "My last one in July was a little high. This time they told me to throw a four-seam fastball. I still don't understand what that means. But I think that's the grip I had. Or was it a two-seam fastball? No, I forgot. It worked out better the last time. Everybody just told me don't throw it low, so I left it way high, and
Michael Young
almost pulled a hamstring trying to jump and get it, and this time I think he could stay in the stance and catch it. So it was better."
• Cardinals manager Tony La Russa moved past Bobby Cox and into second place in the all-time record books. La Russa is now 16 wins behind Joe Torre for first.
• Cardinals reliever
Lance Lynn
on his outing: "You know, that's what this game is all about, who's going to be the guy that comes in and is able to get multiple innings in a game like that because both offenses were on tonight. Somebody had to come in and try to calm the storm, I guess, and I was able to make a couple pitches, and I actually got away with some pitches, too. So to be able to come in and get a couple outs there and not have to go in our bullpen any deeper, I felt like that was good movement on the rest of the series."
• Lots of attention is being paid to
Alexi Ogando
's issues this series, but
Scott Feldman
had a terrible outing Saturday night, too. Feldman and Ogando were an incredible bridge to the late-innings guys in the ALDS and ALCS but have faltered this series.
• Lost in the Cardinals' offensive hooplah: Matt Holliday is now just 2-for-11 in the World Series.
For more baseball news, rumors and analysis, follow @EyeOnBaseball on Twitter or subscribe to the RSS feed.