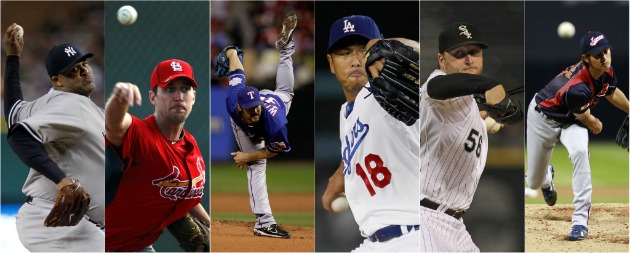 By Evan Brunell
As you're going to quickly realize after going through the position-by-position rankings of free agents, the market is rather poor this year. There are a couple of intriguing options at any spot, but the overall quality and depth is severely lacking. That could lead to a healthy trade market. But these players have to sign somewhere. Let's take a look at the top 20 starting pitchers and what to expect in the market...

1. C.C. Sabathia
: Sabathia may not fetch what
Cliff Lee
did a year ago, but there's no arguing against the lefty here as one of the best pitchers in the game. Despite his weight, Sabathia has been extraordinarily durable and there are zero questions surrounding his ability to pitch in a big-league game. He has yet to have a transcendent season as a Yankee, but is always right there in the discussion for Cy Young votes. It's hard to imagine Sabathia not doing better than four years and $92 million, which is what is remaining on his deal.
Potential teams
:
Yankees
,
Angels
,
Rangers
,
Red Sox

2. Adam Wainwright
: It's difficult to imagine the
Cardinals
declining their 2012 and 2013 options on Wainwright, but if they do, he'll get a pretty good deal in free agency. Waino may be coming off Tommy John surgery, but the right-hander was one of the best pitchers in the game before injury and all indications have Wainwright's rehab being completely normal. If he hit the market, he would do rather well for himself, even beyond the $21 million due him in the options. That, or he would get a pricey one-year deal to re-establish his value. If Waino hits the market, teams will be throwing themselves after him.
Potential teams
: Cardinals, Yankees, Red Sox, Rangers, Angels,
Nationals

3. C.J. Wilson
: Wilson has the numbers for a significant salary after posting a 2.94 ERA on the season in 223 1/3 innings pitched, but many around the game view him as more of a mid-rotation starter, which could depress his value. While Wilson will never be an ace, those that are calling him a No. 3/4 long-term seem to be going overboard a bit. Over the last two years, Wilson has proven he should be considered a No. 2/3 team and this is someone who figures to see his market heat up once push comes to shove. Wilson has long been linked to one of the Los Angeles' teams given that's where he grew up, but he'll be looking for as much money as he can get.
Potential teams
: Rangers, Angels,
Dodgers
, Yankees, Red Sox,
Royals
,
Blue Jays
, Nationals,
Marlins

4. Hiroki Kuroda
: Kuroda is a fantastic pitcher, but also extremely loyal. He truly bleeds Dodger blue and many reports have him uninterested in pitching for any other MLB team. In fact, he is considering a return to Japan should the Dodgers not be interested, but they would be crazy to let Kuroda go. He's willing to work on a short-term contract and can be an important front-line starter as the Dodgers limp along in an uncertain financial future. Los Angeles could potentially see both
Andre Ethier
and
Matt Kemp
depart as free agents after 2012, so the Dodgers will be motivated to get as strong a team together as they can for 2012.
Potential teams
: Dodgers, Japan

5. Mark Buehrle
: The left-hander has sort of flown under the radar when it comes to free agency, but Buerhle could be in line for a big payday if he doesn't restrict himself. Buerhle has long thought to be only interested in playing for the
White Sox
or his hometown Cardinals. However, Chicago seems to want to "play the kids," and might prefer the compensation picks that would come with Buerhle. If the Cardinals extend
Albert Pujols
, they won't have the money for Buerhle, so he may have to look elsewhere for a job. He won't have difficulty finding one, topping 200 innings a season for the 11th straight season, starting as a rookie.
Potential teams
: White Sox, Cardinals, Red Sox, Yankees, Angels, Dodgers, Marlins, Rangers

6. Edwin Jackson
: Jackson has been around the block, already pitching for his sixth team despite being 28 years old. He'll be looking for security and money in what will be the richest contract he'll ever get, which could open up some players beyond the top teams. Jackson is a No. 4 starter who tantalizes with No. 3 potential, which will be enough to get teams to open up their checkbooks once the bigger names on the market are gone. Jackson may not be a sexy pitcher, but plenty of teams recognize the fact that without depth in the rotation, there's nothing.
Potential teams
: Cardinals, Angels, Dodgers, Marlins, Royals,
Twins
, Rangers,
Cubs
, Nationals,
Rockies

7. Roy Oswalt
: Oswalt has threatened retirement and his back problems plagued his season in Philadelphia, so it would be a surprise to see his $16 million option exercised by the
Phillies
. Oswalt is certainly entering the phase in his career where he's going to be working on short-term injuries, especially with his back problems. It's difficult to imagine the righty deciding to hang up his cleats just yet, so should resurface somewhere on a one- or two-year deal. The Rangers, who figure to lose Wilson, could have interest in Oswalt to bring him back to Texas and have him mentor its young players.
Potential teams:
Astros
, Rangers, Phillies, Cardinals, Detroit, Angels, Dodgers

8. Ryan Dempster
: Dempster holds a $14 million player option and it's hard to imagine him doing any better on the free-agent market on an annual basis, so you can expect this option to be picked up. If he does choose free agency, he'll command a contract similar to Edwin Jackson. The righty's ERA soared to 4.80 this season, but his peripherals were still strong, so you can bet on a bounceback season. Even though he will turn 35 next May, Dempster has shown to be very durable. There won't be any shortage of suitors for Dempster.
Potential teams
: Cubs, Red Sox, Yankees, Angels, Dodgers, Blue Jays, Marlins

9. Hisashi Iwakuma
: Iwakuma tried to come stateside last season, but when the
Athletics
won his rights via the posting system, talks fell apart between GM Billy Beane and Iwakuma's agent, Don Nomura. The lefty will be an actual free agent this season, not bound by posting rights, so any team will be able to talk with Iwakuma. That should help his market, and as a left-hander with strong control, would play well in a pitcher's park. Iwakuma will likely fly under the radar as teams like Boston and New York seek more sure things.
Potential teams
: Dodgers, Angels,
Mariners
, Nationals

10. Erik Bedard
: Bedard slogged through yet another injury-plagued season but when he was on the mound, pitched rather well for the Mariners and Red Sox. His market will be depressed by his constant injuries, but at the same time, he's shown that he can still be an important part of the rotation and if he could get a full season's worth of starts for the first and only time since 2006, whatever deal he ends up signing will be a steal. Bedard will likely fall into the hands of a market that couldn't afford to sign any of the better free agents.
Potential teams
: Cardinals, Mariners,
Orioles
, Blue Jays, Royals,
Diamondbacks
, Rockies,
Brewers
,
Tigers

11. Javier Vazquez
: Will he retire or won't he? While it sounds like the righty could be departing, the second-half he had was incredible for Florida. It showed that Vazquez may finally return to normal after his second stint in New York went terribly and he looked kaput in the early going down south. If Vazquez does return, he's going to have a very short list of teams he will pitch for, and it may only have the Marlins on it. If he considers other teams, bet on it being in the NL.
Potential teams
: Marlins, Nationals

12. Bartolo Colon
: Colon had a nice resurgence in New York before tailing off. What he did will easily secure him another go-round with a team, but it's probably not going to be back with New York. Given what his market will be, virtually any team could be in play for Colon. We're entering the part of the starting pitching market in which these pitchers will start seeing their market develop once the top names come off the board. From hereon out, you're more likely to see small-market teams or those with an outside shot at contending come into play for these type of pitchers.
Potential teams
:
Padres
, Orioles, Tigers, Royals,
Indians
, Angels,
Mets
, Marlins,
Pirates
, Diamondbacks, Astros

13. Chris Capuano
: Capuano's market got a bit of an uptick as the season wound to a close given the Red Sox's attempt to acquire him for the final game of the season. Other than coming back as a reliever late in the year for the Brewers last season, Capuano hasn't been heard of since 2007. The 33-year-old showed that he still had plenty left in the tank, and, in fact, had his best season yet according to the advanced pitching metric xFIP. Plenty of NL teams, and even some AL teams, will kick the tires on Cappy.
Potential teams
: Mets, Dodgers, Padres, Cubs, Royals, Twins, Red Sox

14. Bruce Chen
: Like Capuano, Chen has rebuilt his value the last couple of years. He came off a solid 2010 with the Royals into a free-agent market that had no interest in him, probably because there wasn't any idea if Chen could repeat his season. Well, he did, so he should be looking at a couple two-year offers on his plate this winter, and could attract attention from some wannabe contenders. Chen is still a risk, but there's a lot to like here as a backend starter.
Potential teams
: Mets, Dodgers, Pirates, Royals, Diamondbacks, Padres, Marlins, Athletics, Astros

15. Paul Maholm
: The Pirates hold rights to Maholm for one year at $9.75 million, but Pittsburgh is expected to decline. That would be a mistake. While Maholm isn't quite worth that amount of money, it's not all that far off, plus it gives the club a solid lefty for the price of one season under contract. That's a no-brainer, but if he hits the market, might be able to finagle a three-year deal by virtue of being one of the youngest pitchers on the free-agent market. The lefty has shown flashes of being a very good pitcher -- including this year, and one might even argue that Maholm belongs higher on this list.
Potential teams
: Mets, Pirates, Angels, Royals, Nationals, Tigers, Cubs, Cardinals, Angels, Orioles

16. Rich Harden
: Harden, predictably, kept on having his injury problems but when he was on the field, actually pitched rather well with command not seen since 2005, when he was one of baseball's blossoming talents. Harden can still throw gas. He may no longer be able to stick as a starter despite teams giving him every chance possible, but he has the potential to impact a game whichever inning he ends up pitching in.
Potential teams
: Athletics, Rangers, Cubs, Red Sox, Padres, Dodgers, Mets, Marlins

17. Aaron Harang
: Harang pitched rather well for the Padres, but it's pretty easy to figure out why. His home park of Petco Park helped him immensely, so he probably won't find many offers much to his liking out on the market. He may not care, as he's made very clear that he wants to stay in San Diego. Should the Padres decline his $5 million option, he'll return -- just at a lower price.
Potential teams
: Padres

18. Vicente Padilla
: The Dodgers seemed to be high on Padilla last year, hoping he could serve as both a starter and reliever. That got cut short when Padilla began the season on the DL recovering from elbow surgery, then needing neck surgery mere weeks after coming off the DL. It appears as if Padilla has found a home in Los Angeles after signing a below-market deal to remain with the club. Likewise, the club also seems to like Padilla, who has struggled for years among allegations he's a heavy drinker and poor clubhouse personality, so a reunion with the cash-strapped Dodgers makes sense. A handful of other teams could be interested, but it's doubtful they will be any more attractive than L.A.
Potential teams
: Dodgers, Astros,
Giants
, Marlins, Athletics

19. Jeff Francis
: At this point, Francis is pretty far off the "Jeffrey Franchise" label given to him when coming up with the Rockies. Francis rebuilt his value in Kansas City after missing all of 2009 and making 24 starts with Colorado in 2010. The lefty was able to put together 31 starts, even if he tallied just 183 innings. While he has strong control, his lack of a putaway pitch is his main drawback, and at this point, he's nothing more than a No. 4 starter. He'll find a spot this winter, but won't receive much money.
Potential teams
: Royals, Cardinals, Padres, Dodgers, Orioles, White Sox, Mets, Marlins, Pirates, Astros

20. Freddy Garcia
: Garcia once looked like the man whose major-league career was dwindling. But now, after the comeback he's had the last two years -- and especially in New York, where he was a more than able starter for the Yankees -- he's assured himself of at least a few more years' run in baseball. The righty is strictly a back-of-the-rotation starter who could serve as a swingman. His willingness to serve in such a role with the Yankees could have him back as a long reliever.
Potential teams
: Really, he could land with any team.
Bonus pick: Yu Darvish:
If Darvish gets posted, it will give teams an opportunity to get the best pitcher on the free agent market. The only thing that will hold Darvish back is skepticsm as to how his game translates to America, but he is just 25 and put up video-game numbers in Japan, so even if teams talk Darvish down publicly, there will be no shortage of bids. He will also be attractive to teams who covet draft picks, as he won't cost one to sign. Anyone with funds will make a play, even teams who aren't currently competitive. Given his age, Darvish might even work best on a building club, as he would be able to debut on a team with minimal expectations and get his feet wet.
Potential teams:
Blue Jays, Cubs, Mets, Nationals, Rangers, Red Sox, Royals, Yankees
Free-agent position rankings: C | 1B | 2B | SS | 3B | OF | DH |
SP
|
RP
Free-agent overall rankings:
Position players
|
Pitchers
For more baseball news, rumors and analysis, follow @EyeonBaseball on Twitter or subscribe to the RSS feed.