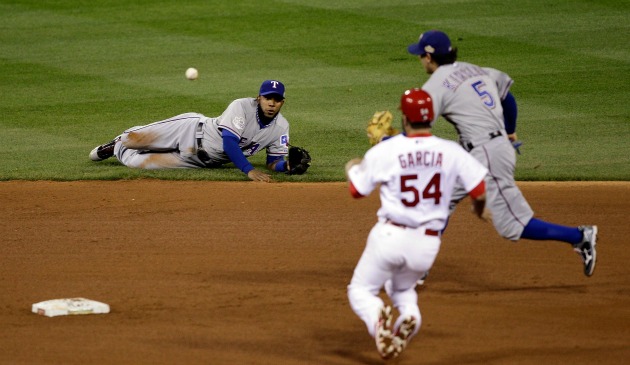 By Matt Snyder
ST. LOUIS --
Elvis Andrus
came through with a big single in the top of the ninth Thursday night and then scored the eventual winning run in the
Rangers
' 2-1 victory. If you only look at the offensive statistics, he was one of the heroes of the game. And that would be a correct assertion, but it wouldn't even come close to telling the whole story.
Andrus is a dazzling defender and he showed it once again in Game 2. In the fourth inning, Andrus flashed his range and glove control, cutting down a ball up the middle, scooping it to second baseman
Ian Kinsler
, who then proceeded to bare-hand the ball and complete an incredible double play to end the inning. Then, in the sixth, Andrus showed even more range up the middle, making a diving stab and then making the throw from the ground, getting it to Kinsler just in the nick of time to end the inning. Had he not made the play,
Nick Punto
likely would have scored, and any run in a 2-1 contest changes the entire complexion of the game.
"Having him at shortstop, it's fun to watch," said center fielder
Craig Gentry
, who enjoyed a pretty nice view of the plays. "He had two plays tonight where I was like 'wow.' That was impressive. But he's been doing that all year."
It's true, Andrus is so good defensively it's gotten to the point where his teammates don't necessarily take him for granted, but they expect him to make those plays. It's not just Andrus, either, because the entire defense is a strength. He's just the defensive leader.
"You never wanna make mistakes, but, boy, they take care of you," reliever
Mike Adams
said. "Sometimes you make a pitch and the ball's gonna go through and these guys come up with some amazing plays."
"Our pitchers feed off that, they know they can let 'em put the ball and play and our defense is behind them," Gentry added. "We take pride in that."
And it was especially evident Thursday night.
"It's a totally different game if a few of those plays aren't made tonight," Adams said.
A few of those plays would obviously be Andrus' two gems. So which one was better?
"I liked the second one," Andrus said with a laugh. "I've made that play a couple of times, but in the World Series … "
Indeed, he saved at least one run for his team on the biggest stage of them all, and in a game the Rangers won by one. It's no surprise Andrus couldn't really finish that thought in words, only with a smile. Just as it's no surprise that he continues to make life easier on his pitchers and teammates in the field.
For more baseball news, rumors and analysis, follow @EyeOnBaseball on Twitter or subscribe to the RSS feed.