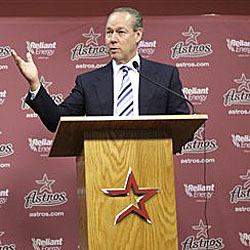 By C. Trent Rosecrans
The Red Sox aren't the only team searching for compensation these days, Jim Crane is seeking compensation for the Astros moving to the American League, several outlets are reporting.
While the Red Sox want talent, Crane, the prospective owner of the Astros, wants a discount on the $680 million purchase price that he agreed to with current owner Drayton McLane.
The New York Post reports Crane wants a $50 million discount, while MLB.com reports there's no set number.
Commissioner Bud Selig said last week he met with Crane earlier this month and had a good, productive meeting with the potential Houston owner.
According to MLB.com, Crane wants the price break to make up for the money spent on travel in the AL West and adding a designated hitter to the payroll.
The Houston Chronicle reports Selig has moved past vetting Crane and is trying to finalize the deal.
"Baseball seems very interested to cause this to happen," the Chronicle quotes "an industry insider familiar with the negotiations" as saying. It also notes Crane has the leverage in the negotiations.
The move to the American League would even out the leagues at 15 teams each and five teams in each division, adding one team to the AL West and removing the Astros from the six-team NL Central.
For more baseball news, rumors and analysis, follow @eyeonbaseball on Twitter or subscribe to the RSS feed.