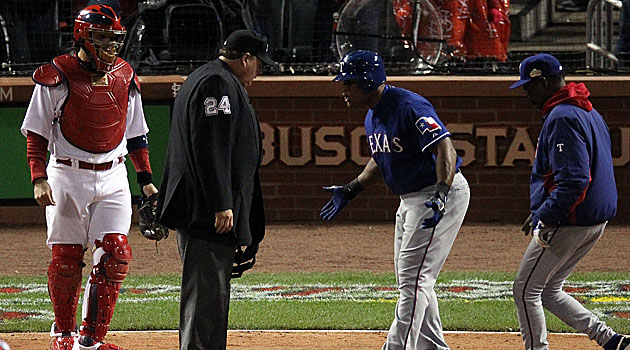 By Matt Snyder
ST. LOUIS --
Rangers
third baseman
Adrian Beltre
came to the plate in the ninth inning with one out and his Rangers trailing by one. He had already gathered two hits and scored one of the two Rangers' runs to that point. Even against rock-solid-of-late
Cardinals
closer
Jason Motte
, the Rangers were certainly not buried with
Nelson Cruz
and
Mike Napoli
set to follow Beltre in the order.
And then Beltre grounded out to third. And he and manager Ron Washington argued. The reason? Beltre believed he fouled the ball off his foot. Replays showed it was entirely possible. Beltre could clearly be seen saying "it hit my shoe."
Via MLB.com, here is the play -- including the thermal imaging video:
Now here is a good slow-motion of the shot, including again the imaging:
First of all, Beltre fell to the ground immediately. It's not like he saw it was a rather weak grounder and decided to play possum. He was down before that entire thought process could have taken place. Secondly, Fox evidently has some thermal imaging in their broadcast and used it to show that that ball did graze his foot.
"(Beltre) said he did (foul it off his foot), and he has those Velcro-type shoes," Washington said after the game. "So (Beltre) asked (home plate umpire Jerry Layne) to check the ball; couldn't find anything on it. (Layne) said none of the umpires recognized it, so that's what it was about."
So did the umpires botch this? If you believe so, understand how utterly difficult it would be to see this in normal speed, with no help from slow-motion. And slow-mo doesn't even give anything definitive here. It
looks
like it
may have
hit Beltre's shoe. Thermal imaging? Maybe MLB needs to institute instant replay with thermal imaging. Then, instead of being behind the technological curve, MLB would be
ahead
of it.
For more baseball news, rumors and analysis, follow @EyeOnBaseball on Twitter or subscribe to the RSS feed.