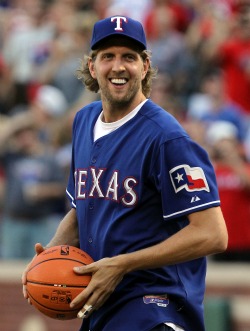 By C. Trent Rosecrans
Update: MLB has invited Nowitzki to throw out the first pitch of one of the World Series games in Texas, ESPN reports. That would either be Games 3, 4 or 5. Spokesman Pat Courtney said that commissioner Bud Selig was unaware that Nowitzki was not involved, and felt he should be.
Read below for more on MLB not allowing Nowitzki to throw out a first pitch before reversing itself.

Apparently a guy dressed up as a cartoon character is OK for throwing out the first pitch in the NLCS, but an NBA player can't throw out the first pitch in a World Series.
Major League Baseball nixed a Rangers proposal to have the Mavericks' Dirk Nowitzki throw out the first pitch in one of the Rangers' home games in the World Series. Although a report by ESPN claimed it was because of the NBA's labor issues, an MLB official denied that was the reason when asked by CBSSports.com.
The MLB official said MLB oversees the selection of the first pitch honorees and they prefer not to promote other sports, but instead promote their own sport. Each team gives the MLB office 10-15 names they are thinking about having throw out the first pitch, and MLB takes a role in saying which ones they would like. Nowitzki was on the Rangers' list and was denied by MLB. Last year the Rangers scheduled two former players and two former presidents (including one that's a former owner of the team) throw out the first pitch during their four scheduled home games in the World Series.
Nowitzki threw out the first pitch at a June 25 game after leading the Mavericks to the NBA title. Teams control who throws out the first pitch in the regular-season, but not the postseason.
Game 6 of the NLCS between the Brewers and Cardinals featured a person dressed up like the character Sully from the movie Monsters, Inc., the inspiration for the team's "beast mode" meme. While MLB oversees who throws out the first pitches in the first two rounds of the playoffs, they give the teams more leeway in their selections in the two rounds leading up to the World Series.
Nolan Ryan, Ferguson Jenkins, George H.W. Bush and George W. Bush threw out the first pitches before last year's home World Series games at Rangers Ballpark.
Bob Gibson, Bruce Sutter and Adam Wainwright will throw out the "first" pitches at Game 1 at Busch Stadium in St. Louis.
For more baseball news, rumors and analysis, follow @eyeonbaseball on Twitter or subscribe to the RSS feed.