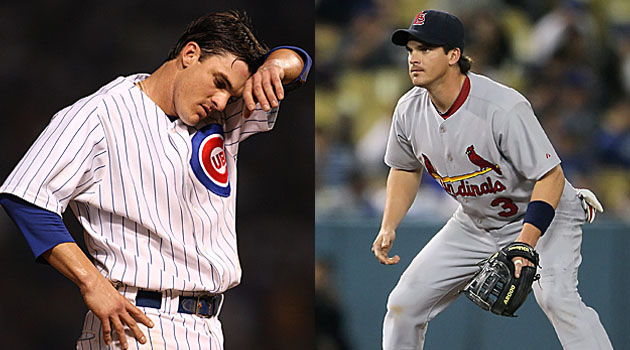 By Matt Snyder
ST. LOUIS -- Prior to joining the
Cardinals
, shortstop/second baseman
Ryan Theriot
had been to the playoffs twice, but his ballclub was swept both times. So before the Cardinals started the NLDS this October against the
Phillies
, Theriot was 0-6 in career playoff games. Of course, that was with the
Cubs
, who haven't won the World Series since the Teddy Roosevelt administration.
Upon being traded to the Cardinals this past offseason, Theriot drew the ire of Cubs fans when he remarked that he was finally "on the right side of the rivalry."
The funny thing is, the 2008 Cubs were awesome. Seriously. If you don't remember, they were 97-64 and the top seed in the NL. Their offense led the NL in runs and OPS. Their pitchers led the NL in strikeouts and ranked third in ERA. But they just gagged in the playoffs, getting swept by the
Dodgers
and generally playing terrible baseball -- errors, no control from the pitchers, etc.
It just makes one wonder if the Cubs were pressing. It was the 100-year anniversary of the last World Series championship and they entered the playoffs as heavy favorites at least in the NL, probably even the World Series.
Having experienced this and now experienced winning two playoff series for a ballclub that last won it all in 2006, Theriot's a good person to ask about the locker room feel for both clubs.
"It's just ... different," he said. "Over there (Chicago in '08) it was a given that we were going to be (in the playoffs). Here, we had to win almost every game down the stretch and didn't really have time to think about pressure."
Were the Cubs pressing, or feeling the weight of the world in 2008?
"I don't know about all that," he said. "It's just ... again,
different
here."
Does it feel easier to play in a city that's enjoyed so much more success?
"It's just a completely different atmosphere," he said again.
He wouldn't say anything more, likely out of respect for that 2008 Cubs team, but his continued emphasis on the word "different" spoke volumes.
For more baseball news, rumors and analysis, follow @EyeOnBaseball on Twitter or subscribe to the RSS feed.