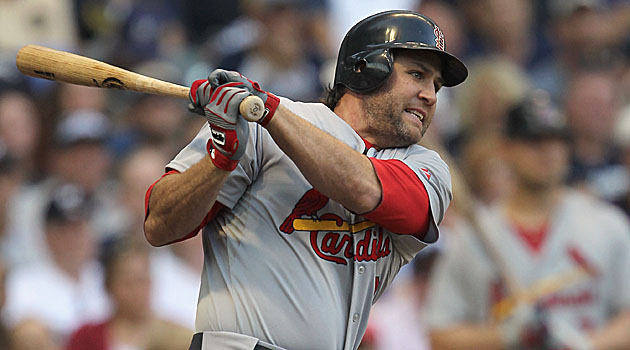 By Matt Snyder
ST. LOUIS -- Just as Scott Miller already wrote, the
Cardinals
' run to the World Series has been one of the most amazing runs in memory. Even more amazing was that the Cardinals and their opponent, the
Rangers
, were connected in a rumor in late August that would have declared St. Louis a "seller," not to mention the fact that the rumor involved someone who angered at least one Rangers player before the season even began.
On August 28, Rangers right fielder
Nelson Cruz
left the game with a hamstring injury. He only missed a few weeks, but at the time the Rangers weren't really in a position to mess around. They were only three games ahead of the
Angels
in the AL West. Meanwhile, the Cardinals weren't even in the playoff picture, and right fielder
Lance Berkman
had cleared waivers -- meaning he could be traded if the Cardinals chose to do so. Rumors connected the two teams for a few days before no move was made and Berkman then signed a contract extension.
All reports from the time indicated that Berkman really didn't want to leave and ultimately the Cardinals would not trade him if they couldn't get him back for the 2012 season. It ended up that the rumor was pretty much all speculation and it never really got close to happening, but that was now twice this year that some Rangers fans had felt slighted by Berkman.
All the way back in January, Berkman was asked about signing with the Cardinals instead of the Rangers. He said that without
Cliff Lee
the Rangers were merely an "average" baseball team. Berkman also said the Rangers "reached" in their deal to
Adrian Beltre
, insinuating he wasn't worth what they paid the All-Star third baseman. Rangers ace
C.J. Wilson
took particular exception to the comments and fired back.
Obviously, Berkman had to field questions about any possible bad blood with the Rangers during Tuesday's World Series media day, and he was nothing but patient and apologetic.
"I didn't intend for it to be disrespectful to the Rangers organization," he said. "Obviously some of that has been proven incorrect. It's not the first time I've been wrong and it won't be the last. When I'm asked a question, I always try to answer it honestly. Sometimes I shouldn't. Sometimes I should just pass the question and I'd be better off."
Berkman was patient, too, because as new media members appeared and asked the exact same question, Berkman was basically repeating himself over and over. But he never once grew impatient, he even kept a sense of humor throughout the questioning.
"I was just thinking I was on a Houston radio station, so I was OK. I forgot they had the Internet," he said with laugh. "That kind of thing would play well in Houston, but not so much up in Dallas."
Had Berkman chosen to sign with Texas or been traded -- and, again, the rumor was speculative -- we wouldn't have this World Series matchup. The 35-year-old slugger was rejuvenated this season, winning the NL Comeback Player of the Year award and making the All-Star team. And while his defense isn't great -- "I'm not exactly Willie Mays out there," he joked -- he's says he has gotten more comfortable out there. Berkman was also huge down the stretch during the Cardinals' big run. He hit .339 with a .446 on-base percentage in the Cardinals' last 31 games.
And if the Rangers fans want to boo him and give him -- as one reporter phrased it -- the "Nyjer Morgan treatment?"
"I'm a native son," he said emphatically (he was born and raised in Texas and attended Rice University). "And the good thing is, the crowd gets so loud ... how long can you really sustain a 'boo?' Fifteen seconds or so? I'll probably be able to handle it."
For more baseball news, rumors and analysis, follow @EyeOnBaseball on Twitter or subscribe to the RSS feed.