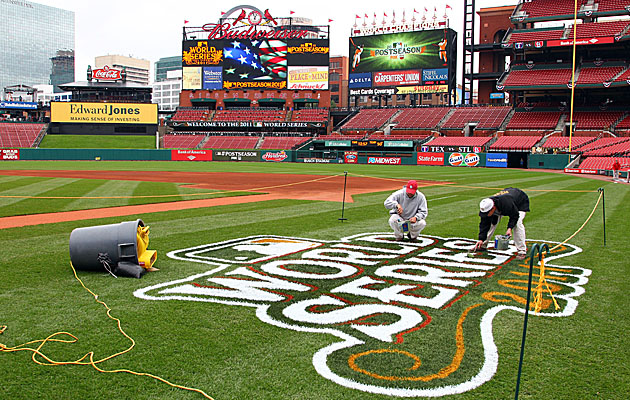 By Matt Snyder
ST. LOUIS -- Brace yourself, baseball fans. You are about to be bludgeoned over the head -- for the next two weeks -- with the TV ratings for the World Series. Specifically, the
ratings are likely to be low
. We're also sure to hear about how much bigger regular-season football games rate, as if that matters to baseball's well-being, and that "no one cares."
And you know what? I don't care ... I don't care what the TV ratings say or what all the baseball haters say. I don't care that most of the people in New York probably think this series sucks. I don't care that some NFL fans are so insecure they have to pompously pound their chests about ratings. Seriously, we get it. The NFL is a monster. There's no denying it and it's not going to change any time soon. If baseball was actually competing with the NFL, it would be losing in a blowout. And I have nothing against the NFL, in fact, I quite enjoy it.
It's just that the NFL and MLB are completely different entities and different sports. Having some die-hard NFL fan look down upon baseball by talking smack about ratings is akin to a 6-foot-6 guy walking into a room and screaming at everyone else, "I'm taller than all of you!" and then repeating it every single day. There's simply no need for it. Again, we get it. Meanwhile, true baseball fans are perfectly content to enjoy good baseball, just as the players are content to put on a good show.
"The games are still really exciting for us,"
Cardinals
infielder
Daniel Descalso
said, remarking how much support the Cardinals have locally.
Bud Selig and the commissioner's office should be worried about the ratings and finding ways to make the audience younger, but we shouldn't be worried about that.
"I'm sure if you're Fox, you care a lot about the ratings," said
Rangers
relief pitcher
Scott Feldman
. "I hope people watch. It's going to be a great series with lots of great players, so hopefully more fans tune in than expected."
In the here and now as fans, though, there's no reason to get caught up in it.
So if you're reading this and only want to comment about how the ratings are going to be low or that no one cares about these two teams playing in the World Series, grow up. Get a life. Lots of people care about these two teams. The two are playing incredible baseball at this time and have huge fan bases behind them.
"We're just playing for our fans," Rangers reliever
Mike Gonzalez
said, who glowed when discussing how electric Rangers Ballpark can get.
And there's this:
"We don't play for the ratings, we play for the rings," Cardinals starting pitcher
Edwin Jackson
said with a smile.
So, true baseball fans, just enjoy what is shaping up to be a great series. If you hear hoards of people pontificating about how much better the NFL's ratings are -- and you will -- just ignore the noise. The easiest way to rid yourself of a pest is to ignore it.
And if you claim to be a true baseball fan yet still say you don't care about this series, maybe you need to reconsider calling yourself a fan of the sport.
"It's unfortunate, but we can't really do anything about it," said
Kyle Lohse
of the Cardinals. "It's two really good ballclubs and I'm surprised more people don't wanna see great baseball."
Me, too. But Lohse is right, we can't really do anything about it right now. So just enjoy the great baseball that is to come in the next week and a half.
For more baseball news, rumors and analysis, follow @EyeOnBaseball on Twitter or subscribe to the RSS feed.