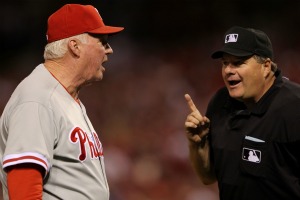 By C. Trent Rosecrans
Jerry Layne will be behind the plate for Game 1 of the World Series, Major League Baseball announced on Tuesday.
Layne, who is the crew chief, will be working his first World Series since 2005. He'll be joined by Greg Gibson, Alfonso Marquez, Ron Kulpa, Ted Barrett and Gary Cederstrom. Gibson and Kulpa will be in their first World Series, while Marquez was in the 2006 World Series, Barrett 2007 and Cederstrom in 2005 on the crew with Layne.
For Game 1, Gibson ill be at first base, Marquez second, Kulpa third, Barrett in left field and Cederstrom in right
Cardinals starter Chris Carpenter has pitched just two games with Layne behind the plate, one in 2001 and another in 2006. In 2006, Carpenter allowed three unearned runs in six innings with Layne calling balls in strikes. Layne has been behind the plate for Wilson in just two relief appearances totaling 1 1/3 innings in 2006 and 2009.
All six of the umpires worked during the Division Series, with Barrett behind the plate in Game 5 of the Yankees-Tigers series and drawing some criticism for his strike zone. He'll be behind the plate for Game 5 of the World Series.
Kulpa is a native of St. Louis. Marquez was behind the plate for Game 2 of the 2006 World Series, a 3-1 Tigers victory over the Cardinals. Cederstrom was behind the plate for the classic Game 5 of the NLDS this season between the Cardinals and Phillies, with Carpenter outdueling Roy Halladay.
For more baseball news, rumors and analysis, follow @eyeonbaseball on Twitter or subscribe to the RSS feed.