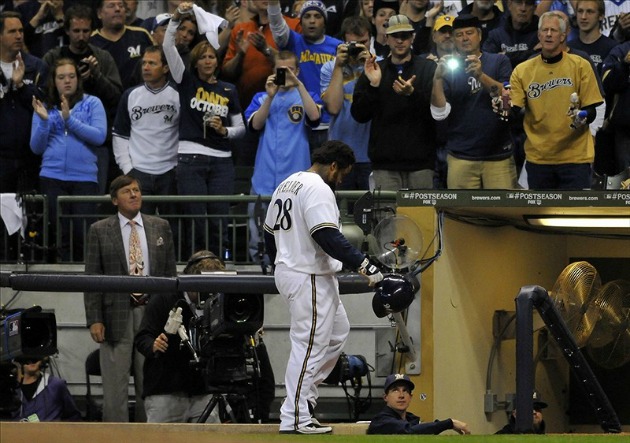 By C. Trent Rosecrans
There was a Fielder crying in the clubhouse after the Brewers' season was ended on Sunday night in Game 6 of the NLCS, but it wasn't the biggest Fielder. No, Prince Fielder had a bemused smile on his face and was telling his son, Jadyn, that everything would be OK.
In the eyes of a 6-year-old, you can understand. His favorite team just lost and everyone tells him his dad is leaving the only home he's known. He's going to go to some different team, play in a different city and Jadyn will have to find new friends and live in a new world. That's big stuff when you're 6.
Fielder comforted his son, keeping his own eyes dry -- something not all of his teammates could claim. This was more than likely Fielder's last game at Miller Park in a Brewers uniform. The 27-year-old will be one of the game's most sought-after free agents this season and will sign a contract that should make him an even richer young man.
Fielder, at times, has said he's "probably" going to play somewhere else next season and the Brewers are saying all the right things about trying to keep him ("We're planning on participating in the sweepstakes," principle owner Mark Attanasio said after the game). But nobody really expects Milwaukee, which has already ponied up $141.5 million through 2020 from Braun, to keep Fielder in Milwaukee.
The Brewer fans gave him a standing ovation when he came to the plate a final time at Miller Park in the eighth inning -- and Cardinals first baseman Albert Pujols (who will receive a pay bump of his own after this season is done), called time out right before Lance Lynn's first pitch so that the fans could have a little longer to pay their respects for Fielder.
"It was awesome, just because… playing here was awesome," Fielder said. "I'm just glad I was able to have the amount of fun I had. It was cool. It was cool."
During his postgame news conference, a reporter did follow-up and ask him about his choice of tenses when talking about his time in Milwaukee.
"No, as far as this year, it's over," he clarified. "This year is over. Why are you trying to do that?"
He did add, on a subsequent question -- "Hopefully I'm here for more years to come, but if not, it's been cool."
His teammates -- or soon-to-be-former teammates -- know the score. The small-market Brewers can't afford the large-ticket price Prince. The Brewers picked their prince in Braun, so Fielder will need to move on and a squire will take his place.
"Everybody recognizes the situation, everybody understands circumstances and we'll see what happens," Braun said. "Regardless of what happens, what he's been able to accomplish here in the last six years is incredible. He's one of the greatest players in franchise history, one of the best teammates in the league, an incredible competitor and I'm proud to say I was able to be teammates with him for five years."
Fielder said all the right things -- he's thinking about returning, he loved Milwaukee -- all that. But free agency and big dollars speak other things, they'll likely lead the player the Brewers drafted in the first round of the 2002 draft to another organization. No matter what's said, actions mean more.
Haven, Fielder's other son, though, probably had the more fitting symbolic act than his older brother, as he took a giant stuffed Sully from the movie Monster's Inc. and the inspiration for the "Beast Mode" celebration decked out in a Brewers jersey out the clubhouse door.
For more baseball news, rumors and analysis, follow @cbssportsmlb on Twitter or subscribe to the RSS feed.