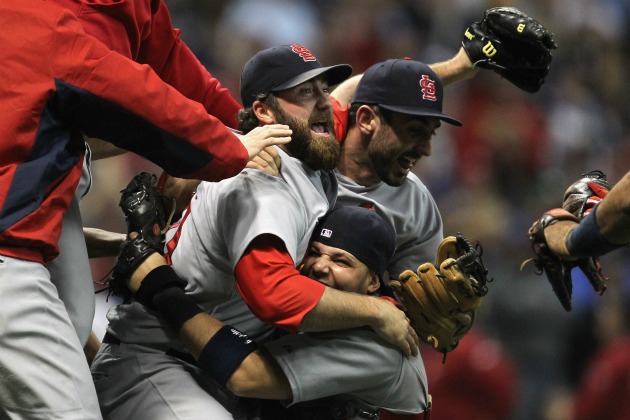 By C. Trent Rosecrans
MILWAUKEE -- You always see the images of the winning team's clubhouses at the end of a series, but never the losing side. What flows like the champagne on the other side is hugs. Players hug each other, at times going down a receiving line of hugs. Each of the Brewers on Sunday hugged it out as the team realized its 2011 season was over.
There were kids -- from Prince Fielder's sons, to Jerry Hairston's -- they got hugs too. There were tears, from players, from sons. And there were hugs.
But still, there are smiles. A group of players realize their season is done, but there are worse ways to end a season than in the playoffs.
"Ultimately we fell short of our goal, which is disappointing, but in due time we'll be able to look back and appreciate our accomplishments," Brewers right fielder Ryan Braun said.
There was little bitterness, just acceptance that defeat was earned and the other team will be moving on to the World Series.
"Really, no knock on our defense, no knock on our pitching, but they flat-out beat us -- period," Hairston said. "We ran into a hot team, a great team. They deserve to be in the World Series, no question about it. They deserve it, they won it. Once you get to the final four, just about anybody can kick in and win the whole thing. They deserved to represent the National League in the World Series."
Also overheard after Game 6:
• Robin Yount, Brewers Hall of Famer, on losing to the Cardinals: "I was hoping to get a little playback for '82, but we didn't get it. I'm still bitter about that series."
• Tony La Russa on allowing himself to digest this incredible run the Cardinals have put together: "No. Because one of the keys is you can never allow yourself to look back because that's a distraction. We remind ourselves, even today we went around different players, it's always about maintain your edge the next game you play. Even if you for a minute do either one, look ahead or look back, you lose an edge. The guys were just absolutely relentless about today, today, today, last game of our lives."
• Albert Pujols on advancing to the World Series: "It's awesome but your goal is to win it. Nobody talks about second place. Everybody talks about who wins it. That's going to be our main goal."
• Cardinals closer Jason Motte on Adam Wainwright's injury this spring: "It was a terrible loss. But as a team, we knew someone had to step up and do the job, get us some innings. It was an up and down season, but it wasn't just when Adam went down. Albert was hurt, Berkman, Holliday ... you name it, guys have been hurt."
• Shaun Marcum in the team's pitching in the playoffs: "One of the things that got us here was consistency, we were able to be consistent almost all year long and hand the ball over to the bullpen all year long. And aside from the starts by Yovani (Gallardo) and the one by Randy (Wolf), we didn't do a very good job of that. But we've got to give those guys credit, they're not the top-scoring offense in the league for no reason."
• Nyjer Morgan on the postseason: "It sucks when you get down and then when we swing the bats and then they put more (runs) up. Sometimes the game's going to go like that. Dr. Freeze came along at the wrong time and started chilling people's bats out, man. We've just got to keep our heads up, but looking back at it all, 101 wins, a franchise record, and a bunch of men in here that went to battle every night for the last eight months, you can't say enough about that. Everybody did what they were supposed to do, but they fell short."
• Morgan on Prince Fielder returning: "I'm hoping so, mang. Plush can't spit on that one, I'll leave that for the agents and everybody else to talk about that one. Of course I want the big man to come back, but I hope he does, but that's not for me to speculate on that, but, you know, T Plush wants my boy back."
• Brewers owner Mark Attanasio: "You can see the way Tony La Russa managed against us with a lot of urgency, you know, I'm going to view that as a sign of respect. If he brings his closer in with a six-run lead, he realizes we've scored six runs against them before. I think he's showing us respect for that. It's bitter-sweet part -- the bitter part is it's very, very hard to lose when you get this far with a team this good, but as bitter as that is, I'm proud of these guys."
• Attanasio on the Cardinals: "We and the Cardinals compete very hard, there's a lot of extraneous commentary, but I think you saw a very toughly played series -- what did we play 24 times? I guess 13 times we were on the wrong side of it -- 13-11. You give them credit, they played great."
• Attanasio on missing their shot at a World Series: "(General manager) Doug (Melvin) and I don't look at it that way. My goal has always been to build a long-term winning tradition here. I think we're off to a great start, especially being in the playoffs two times in the last four years. I'm not looking at 1982, I'm looking at right now. We've been in the playoffs the last two years and that's what we're trying to build in Milwaukee. And importantly, the whole country, including other athletes, are seeing what we're trying to do here. This is a great place to play. I think this is going to help us recruit ballplayers and we're not looking at this as our last shot."
• Brewers utility man Craig Counsell on his future: "I want to get away from it a little bit and then we'll sit down and make a decision. I've always said I'll play until they say no. You question when you're hitting .170 and you're 41 years old, you question yourself, there's no doubt. There's still that tug that you've got a great job and you love coming to work every day, so we'll think about it a little more in the winter."
• Ryan Braun on watching the World Series: "I doubt it. I'll probably get away from baseball for a while."
• Braun on the being called out on a play at first in the fifth inning of Game 6: "I don't know if it was necessarily a turning point our not. It's a tough play for an umpire -- I was safe -- but I'm going to give Albert credit, he made a great play on that. I don't think it was a turning point, but it seemed indicative of everything that happened this series -- they clearly played better than us, but every play went their way, every call went their way and I think when you end up winning games and winning a series, you look back and there are always things that go your way. When you lose, you look back and feel like everything went against you. That's just how the game works sometimes."
For more baseball news, rumors and analysis, follow @cbssportsmlb on Twitter or subscribe to the RSS feed.