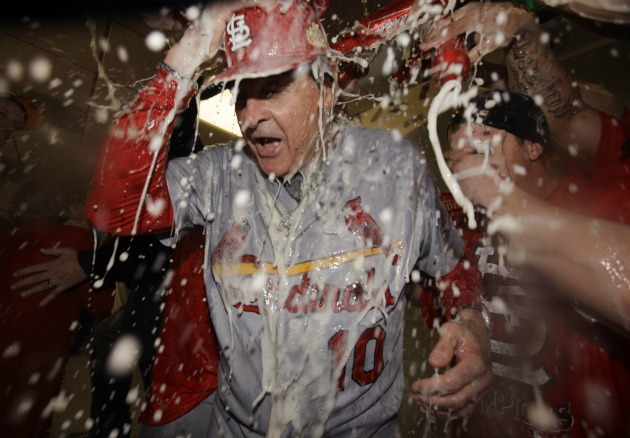 By C. Trent Rosecrans
MILWAUKEE -- In a series that provided plenty of hits and seemingly as many pitching changes, the St. Louis
Cardinals
hit their way to their 18th National League pennant, defeating the
Brewers
four games to two onthe heels of a 12-6 victory in Game 6 on Sunday.

Tony La Russa: The Cardinals manager is sometimes maddening to watch and worse to listen to -- but he's darn good at his job, and that's not making bloggers happy. Seemingly every move he made in this series worked, especially working a trail from the dugout to the mound, using 28 pitching changes and getting 28 2/3 innings out of his bullpen while limiting his starters to 24 1/3 innings. La Russa carried eight relievers on his postseason roster to make sure he always had enough arms that he could play matchup with the right-handed Ryan Braun and left-handed Prince Fielder. La Russa gambled that the rest of the Brewers wouldn't hurt him as much as those two, so he tried to limit their effect on the series. The thinking being that the other Brewers could hurt him and cost him a game, but only Braun and Fielder would cost him the series.

Ryan Braun: Braun hit .333/.385/.583 in the series and knocked in five runs -- it's hard to say that's not good. He also got on base in the first inning in each of the first five games, something that's huge when you have a run producer like Fielder hitting behind you. However, Braun was held hitless in the final game and had just one homer in the series, making him a B player for the series. That's not exactly what anyone in Milwaukee was hoping for a guy that should collect an MVP trophy for his regular-season work.

St. Louis starters: The Cardinals' starters didn't do much -- but they weren't asked to do much. No starter went more than five innings -- the first time in postseason history a team has won a series with that bizarre statistic. Chris Carpenter's Game 2 start was the longest, at just five innings. The starters had a 7.06 ERA in the series, nothing to crow about -- but they were just good enough, especially with the potent Cardinal offense. That's why it's hard to give them anything but a passing grade, but it's not going to come without a talk to the teacher and a stern warning that they aren't living up to their potential.

Milwaukee starters: If it weren't for Randy Wolf, this would be an easy F. But Wolf pitched fantastically -- much better than any other starters in the series -- in Game 4, but the rest of his mates let him down. Zack Greinke, who whined his way out of Kansas City so he could pitch in the postseason, laid an egg -- twice. And then there's Shaun Marcum, who couldn't make it to the second inning in the season's biggest game. Marcum took the loss in Game 6, and amazingly he started half of all of the Brewers' home losses this season, including the postseason (13 of 26). Even Yovani Gallardo, who pitched so well in his two starts against the Diamondbacks was ineffective against the Cardinals, giving up four runs on eight hits in five innings in his one start. Overall, the team had a 7.24 ERA in the series.

Milwaukee's defense: Somehow, some way, Yuniesky Betancourt wasn't the Brewers' worst defensive player. And when you're saying that… well, you're saying quite a bit. The Brewers committed 10 errors in the NLCS, tying the record for an LCS set by the 1999 Red Sox. In Game 6, the Brewers committed three errors -- two of them by Jerry Hairston Jr. on the same play. He had a costly error in Game 5, as well. Rickie Weeks also had three errors in the series -- and four in the postseason. The rest of the postseason games featured just two errors by second basemen other than Weeks. The Brewers pitchers weren't great, but their fielding wasn't doing them any favors, either.
For more baseball news, rumors and analysis, follow @cbssportsmlb on Twitter or subscribe to the RSS feed.