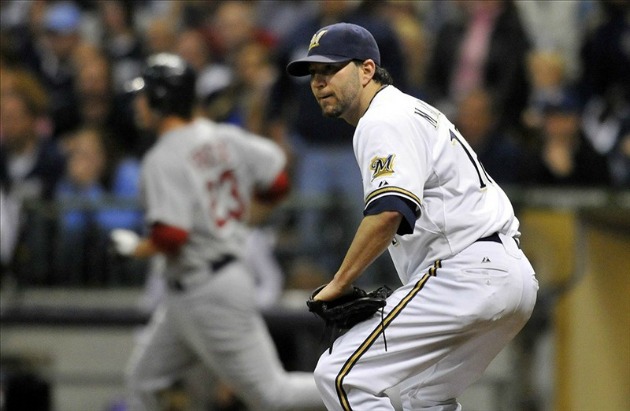 By C. Trent Rosecrans
MILWAUKEE -- Before Game 6 of the NLCS on Sunday, Brewers manager Ron Roenicke said the decision to start a struggling Shaun Marcum was "the right decision."
And it was. For the Cardinals.
Marcum was booed as he walked off the mound in the first inning, giving up four runs before his team took a single swing of the bat.
Even before David Freese hit a three-run homer, Roenicke had LaTroy Hawkins warming up in the bullpen. It took two very good defensive plays (and a questionable call by home plate umpire Mike Winters) to get the first two outs of the inning, as Marcum gave up a single to Jon Jay, a walk to Albert Pujols, an RBI single to Lance Berkman and Freese's homer in a four-run first. Marcum needed 27 pitches to get out of the inning.
Yuniesky Betancourt made a good running play on a popup by leadoff man Rafael Furcal in short left to start the inning before giving up a single to Jay. Jay stole second, and then after Pujols walked, Berkman singled and took second when Brewers center fielder Nyjer Morgan overthrew his cutoff man in a futile attempt to get Pujols at third.
The Brewers seemed to get the break they needed when Holliday hit a weak grounder back to the mound and Marcum scooped the ball to catcher Jonathan Lucroy to get Pujols at the plate. While the throw beat Pujols (barely), Lucroy tagged his back leg after his front leg had crossed the plate.
There wasn't much time to dwell on that, as Freese hit the first pitch he saw from Marcum over the fence in left. To give St. Louis a 4-0 lead.
Left-hander Chris Narveson started the second with the Brewers trailing 4-1 (Milwaukee's run came on a Corey Hart leadoff homer).
In three postseason starts, Marcum is on the hook for his third loss and pitched 9 2/3 innings, allowing 17 hits and 16 earned runs, good for a 14.90 ERA.
"I really feel good about this decision," Roenicke said before the game. "Whether he pitches well tonight or whether he gets hit a little bit, this is the right decision. For this ball club, it's the right decision. And I've had many conversations with a lot of people in this organization that have been with us all year. This is definitely the right decision.
"It doesn't mean that he's going to go out and have a great game. I expect him to. I think he's definitely capable of doing it. He has not liked the way he's pitched the last couple of games. And I think he's going to have a good game today."
Roenicke was wrong, but his reasoning in sticking with Marcum was that he didn't want to go with Yovani Gallardo on short rest, and if he did, he had few other choices for a starter in Game 7.
For more baseball news, rumors and analysis, follow @cbssportsmlb on Twitter or subscribe to the RSS feed.