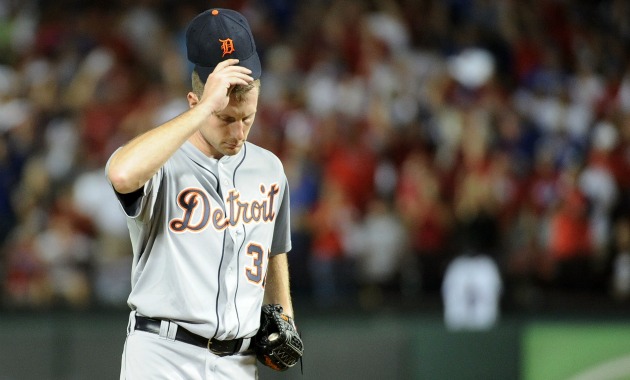 By Evan Brunell
ARLINGTON, Texas --
"It's a tough pill to swallow," said
Max Scherzer
on the
Tigers
' Game 6 loss in the ALCS to the
Rangers
, ending Detroit's season.
Scherzer was perhaps most responsible for the Tigers losing, coughing up six runs in just 2 1/3 innings, walking four and punching out just one. Scherzer was erratic from the get-go, and it all caught up to him in a third inning from hell, when he recorded just one out, allowing three runs to cross the plate, plus an additional three charged to him after exiting the game, as
Daniel Schlereth
and
Rick Porcello
couldn't stop the bleeding.
"You want to come up huge for your team and be in this type of situation with the World Series on the line," Scherzer said, no doubt flashing back to his days as a child imagining this very situation. "To not pitch to your ability ... when that happens, that's a tough pill to swallow. ... You always want to be the guy to step up and help the team win."
Scherzer, who was clearly hurting from the loss, recorded the third-shortest start of his career over 103 games across the regular season and postseason. His other two shortest stints actually came this year, going just two innings on May 26 against the
Red Sox
and July 2 against the
Giants
. However, that was a long time ago. Following the All-Star break, the light came on for Scherzer, posting a fielding-independent ERA in the low 3.00s and checking in with a sterling 4.33 K/BB. For comparison, across the entire year, only eight pitchers bested that mark -- and
Justin Verlander
was at 4.39. Given his success as of late, it's easy to see why Scherzer said he beat himself on Saturday, with three of his four walks coming in the third and all coming around to score.
"Anytime you start walking that many batters, it's bound to catch up to you," Scherzer said. "That's something I've done a pretty good job of this year, is minimizing the damage. For that to happen at this stage, at this moment, is extremely frustrating for me."
It's not as if Scherzer had struggled earlier in October, either. The right-hander defeated the
Yankees
in Game 2 of the ALDS, pitched 1 1/3 innings of perfect relief in Game 5, then held the Rangers to three runs in six innings in Game 2 before
Nelson Cruz
destroyed the Tigers with a walkoff grand slam. All told, going into Game 6, Scherzer's postseason debut saw him post a 2.70 ERA in 13 1/3 innings, walking five and striking out 13. Well, now those numbers are going to be pretty bad.
"He was out of whack for the most part all the way," manager Jim Leyland said. "His control was not good from the get-go, really. And he had a tough time. And we just couldn't stop the bleeding."
One of the most pivotal parts of Game 6 came in the third, when Scherzer thought he had Nelson Cruz struck out on a 2-2 pitch. The first-base umpire disagreed, causing Leyland to howl with rage and Fox announcers to openly question the call. While it's debatable that Cruz did offer, Leyland didn't pull any punches when asked his opinion after the game.
"I do and still will always question the check swing on Cruz," he said. "I thought that was definitely a strike. I thought he definitely swung.'
Cruz would go on to walk, and Scherzer would issue one final walk before being pulled from the game. If Cruz strikes out, the inning may have unfolded a very different way. Recreating the inning around Cruz's whiff projects a score of 6-2 after the inning instead of 9-2. Factor in Detroit scoring two runs in the top of the fifth, and suddenly it's a 6-4 game and anyone's ballgame.
"I thought he went," Scherzer admitted, noting he hasn't seen the replay. "At the end of the day, it still came down to how I managed the rest of the inning and I didn't do a good job of keeping them off the bases. I made more mistakes than just that one."
He made a ton of mistakes, and for that, Detroit is going home earlier than it wanted to.
"It's hard right now," Scherzer admitted, struggling with being able to look ahead to next season. The Tigers will return much of the team, and while Scherzer notes that "we have a pretty darn good team," he just can't think ahead.
"This isn't a good moment. I know life goes on, but ... it's just ... it's tough."
For more baseball news, rumors and analysis, follow @EyeonBaseball on Twitter or subscribe to the RSS feed.