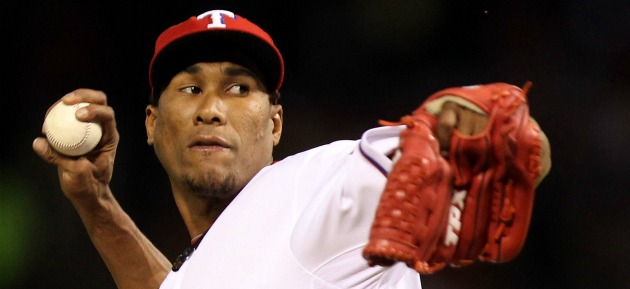 By Evan Brunell
ARLINGTON, Texas -- The Rangers are headed to the World Series while the Tigers are headed back home now that the ALCS has concluded. Let's grade the series...

Nelson Cruz
. A no-brainer.Cruz was a one-man wrecking machine the entire ALCS, and was voted the series MVP. Cruz became the first player in postseason history to hit two extra-inning home runs the same series. Both won games for the Rangers, with the first one making history as the only walkoff grand slam ever hit in October. His six home runs and 13 RBI both set LCS records. He already has 12 postseason home runs in his career over two seasons, which a franchise record and already in the top 15 all-time. Seriously, what more can you say about Cruz?

The Rangers bullpen. Seriously, how insane was the Rangers bullpen? Let's count the ways. The Rangers bullpen was responsible for all of the Rangers wins, allowing just four runs in 27 1/3 innings (1.32 ERA). The relievers -- headlined by Alexi Ogando (pictured) and Scott Feldman -- allowed just 21 baserunners while punching out 25 en route to becoming the fifth team with at least three wins in a LCS, the last being the 2003 Marlins. Only the 1997 Indians matched the Texas bullpen with four victories.
And Ogando? He won his second game of the series in Game 6, the fifth reliever to win two games in an ALCS. He joins Sparky Lyle (1977), Tom Henke (1985), Gene Nelson (1988) and
Francisco Rodriguez
(2002).

Justin Verlander
. Look, Verlander had a regular season to remember and deserves to win the AL Cy Young, and it will probably be unanimous. But can anyone really look at Verlander's performance in the ALCS and say it was "good?" It wasn't bad, sure, but it certainly wasn't good. In Game 1, Verlander was far from top-notch before he was yanked thanks to weather problems. He lasted four innings and gave up three runs and two walks, striking out five. Then, in Game 5, Verlander tossed 133 pitches over 7 1/3 innings, giving up four runs including a two-run homer to Nelson Cruz, who would be his last hitter of the night. Verlander's pitches were still registering at 100 when he was done, true, and if he didn't come out for the eighth, he would have given up only two runs in seven innings. But that's not what happened. The fact is that he gave up four runs in 7 1/3 innings and that's not particularly great, especially given that it's often very difficult for a team to win in the postseason with their starter giving up four runs. Verlander did fine, but really no more than just fine. Hence this grade.

Jim Leyland's managerial decisions
. Leyland is a fantastic manager, but one has to wonder how this series would have looked if not for some curious decisions. In Game 4 alone, Leyland presided over two brutal baserunning decisions that, frankly, shouldn't have been made. In the 10th inning,
Austin Jackson
was on first base and chose to run on his own and was nabbed stealing. That was a colossal mistake, as it took the bat out of
Miguel Cabrera
's hands and took away a chance for Miggy to come through with a potential game-winning hit.
Speaking of Miggy, he was standing on third base in the 8th inning with a chance to cross the plate with the go-ahead run. But he was sent home on an outfield fly, with all the speed and agility of a freight train, and easily thrown out by Nelson Cruz. Leyland said if the throw was off-line, Cabrera still scores. Yes and no. If the throw was wildly off the mark, anyone could have scored ... but even a bounce, or a trajectory that took Napoli away from the plate still could have been good enough to nab Cabrera, who has zero speed. Yes, Cruz "sometimes" throws erratically. Yes,
Alex Avila
was up next. I don't care. Bad move.
Leyland also made some curious decisions with the lineup composition and didn't touch
Wilson Betemit
once the entire series, despite Betemit's bat being better than many who got playing time. And, frankly, he left
Max Scherzer
in the game far too long in Game 6. It was an elimination game. When something's not working, you move on fast.

Weather
. Rain was a constant presence during the ALCS, with two separate rain delays in Game 1 fouling up both Justin Verlander and
C.J. Wilson
's starts. Fortunately, however, the pitching rematch of Game 5 was able to be played without any delays. It was only the second game of the series that wasn't affected by rain, although the skies opened near the end of the game and became a deluge shortly after conclusion. Game 2 in Texas was postponed outright, while Game 4 in Detroit saw a pregame delay of just over two hours.
For more baseball news, rumors and analysis, follow @EyeonBaseball on Twitter or subscribe to the RSS feed.