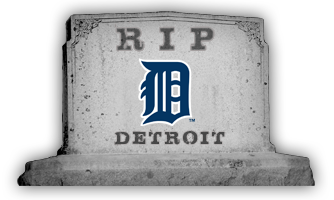 By Evan Brunell
ARLINGTON, Texas -- Another season gone, another disappointment for 29 teams as one is immortalized forever. Let's take a look back at 2011 and forward in Eye on Baseball's
R.I.P. series...
Team name:
Detroit
Tigers
Record:
95-67, 1st place AL Central. Lost ALCS to
Rangers
, 4 games to 2
Manager:
Jim Leyland
Best hitter:
Miguel Cabrera
-- .344/.448/.586, 48 2B, 30 HR, 105 RBI
Best pitcher:
Justin Verlander
-- 24-5, 251 IP, 2.40 ERA, 57 BB, 250 K
2011 SEASON RECAP
The Tigers were expected to be competitive, but not
this
competitive. Prior to the season, all the attention was on the
Twins
and
White Sox
. In the early going, the prognosticators looked to be correct as Detroit fell to a 12-15 record at the close of April. Things looked bleak on May 3 when the Tigers dropped to eight games behind first after running up a seven-game losing streak, the largest deficit the team would deal with all season. Following that, the light flipped on and Detroit ran up a 16-11 month, following it up with a 16-12 June that left the team 1/2 game behind Cleveland for first.
The second half of the season saw the
Indians
fade into obscurity and Detroit take its place behind the bat of Cabrera and arm of Verlander. Even more impressive was the fact Detroit was playing without a second baseman and third baseman much of the year. Carlos Guillen's injury troubles continued, while
Brandon Inge
found himself demoted to the minors at the end of July. Fortunately, the club weathered adversity, battled through a .500 July and then went bananas down the stretch, finishing with a 38-16 record in the final two months, including a 12-game winning streak from Sept. 2 to Sept. 14.
In the postseason, the Tigers needed the full five games of the ALDS to vanquish the
Yankees
, then entered into a pitched battle with the Rangers. While Texas walked away with a significant margin of victory by winning the ALCS four games to two, the series was much closer than it looked and if a few lucky bounces had gone Detroit's way, this R.I.P. wouldn't yet be here.
2012 AUDIT
Detroit is fairly settled for an attempt at a repeat division title next year. The pitching is, by and large, settled with a front four of Verlander,
Doug Fister
,
Max Scherzer
and
Rick Porcello
. The bullpen, likewise, is fairly stable and the offense will only be needing a second baseman and right fielder. Detroit has some good money coming off the books in Guillen's $13 million salary along with
Magglio Ordonez
's $10 million pact, so the club should be able to bring in an impact hitter.
FREE AGENTS
Wilson Betemit
, 3B
Carlos Guillen, 2B
Magglio Ordonez, RF
Brad Penny
, SP
Ramon Santiago
, 2B
Jose Valverde
, CL (team option: $9 million)
Joel Zumaya
, RP
OFFSEASON FOCUS

Frankly, it would be a mistake for the Tigers to tender Delmon Young a contract. However, given the home run power he displayed for the team and how much the Tigers invested in him by making him the No. 3 hitter, he'll be back. So be it.
Re-sign Jose Valverde to a contract extension. The Tigers should be able to lock Valverde in for two or three more years at a lesser annual salary than the $9 million he would make on the team option. If Valverde balks, simply pick up the option. It's close enough to market value, plus it will only tie the team to him for one more year. Any time you have the chance to retain a strong pitcher for one year, don't you have to do it? Also bring back Zumaya on a make-good deal. Zoom-Zoom wants to stay and won't cost much given he's been a non-factor for quite some time now.
Sign Jamey Carroll to play second base. Ramon Santiago filled in ably all season, but Santiago is no one's idea of a starting second baseman. There isn't that much on the market, but Carroll would be a great fit as someone who could hit for a high average and generate some speed on the basepaths. Detroit finished last in the AL in stolen bases in 2011, and they need to make their offense more dynamic.
With all the money saved so far -- after all these moves, plus arbitration raises, the Tigers should be looking at roughty $20 million free to spend -- Detroit should bring in some thump into the lineup. It just so happens there's a vacant spot in right field opening up, and Michael Cuddyer would look nice in that role. (Yeah, yeah, Brennan Boesch. Not sold.) If Cuddyer heads elsewhere, the Tigers should take a look at Carlos Beltran. If that's a no go -- and I expect Beltran wouldn't care for playing in Detroit unless the Tigers ponied up more money than anyone else -- signing David DeJesus to a low-risk, high-reward deal makes sense. There's always the trade market too.
For more baseball news, rumors and analysis, follow @EyeonBaseball on Twitter or subscribe to the RSS feed.