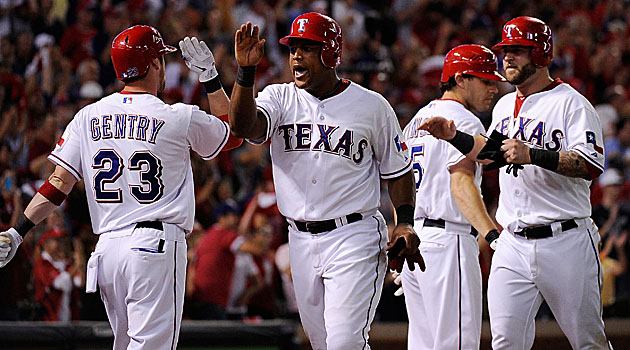 By Evan Brunell
ARLINGTON, Texas --
At this point, how can anyone pick against the
Rangers
to win the World Series?
It doesn't even matter whether St. Louis or Milwaukee comes away with a victory in the NLCS, because no one can stop the runaway train that is Texas. The Rangers' offense was in rare form during the ALCS, paced by
Nelson Cruz
's awe-inspiring feats. Even
Michael Young
, who couldn't hit his way out of a brown paper bag all postseason, got in on the fun in Games 5 and 6. Even with Milwaukee and St. Louis both gaining the ability to use a DH (but only the
Cardinals
benefiting from it, able to slot
Allen Craig
in the lineup), neither team can hope to out-slug the Rangers, who have Cruz batting No. 7, for crying out loud.
Texas also has sensational defense and while its starting pitching wasn't quite up to snuff, the bullpen more than made up for the lack of any dominant performance by the rotation. When skipper Ron Washington can wave a wand and roll out
Scott Feldman
,
Alexi Ogando
,
Darren Oliver
,
Mike Adams
and
Neftali Feliz
in relief, who cares if the starting pitcher can't go six strong? In addition,
if the NLCS has shown anything
, it's that the Cards and
Brewers
have their own problems with starting pitching. So then it becomes a battle of bullpens, and the Rangers have to be the heavy favorites there as well.
Momentum-wise, can anyone doubt that the Rangers hold the edge over whichever NLCS team advances? Not only did Texas handle Tampa Bay with relative ease, the ALCS versus Detroit seems to have come right out of Hollywood. A walkoff grand slam, a crucial throw at the plate, the bullpen coming up nails ... what more can you ask from this Rangers team to prove that they are the deepest, strongest and most confident team left in the playoffs?
Running a comparison of all three teams, the Rangers win the battle of the offense. They win the battle of pitching, too, off of their strong bullpen and the lack of any separation in the three teams' starting rotations. The fielding belongs to Texas, too. The confidence and momentum pendulum swings toward Texas as well. There is just nothing here to indicate that the Rangers aren't the heavily favored team to win the World Series, even without home-field advantage. Given the NL won the All-Star Game, that means that Texas will host Games 3, 4 and 5, and it wouldn't be surprising at all if the World Series was won in Texas.
This article has been one entire broken record. Texas this, Texas that. But there's a reason for that. For the Rangers will be left standing tall at the end as your 2011 world champions.
For more baseball news, rumors and analysis, follow @EyeonBaseball on Twitter or subscribe to the RSS feed.