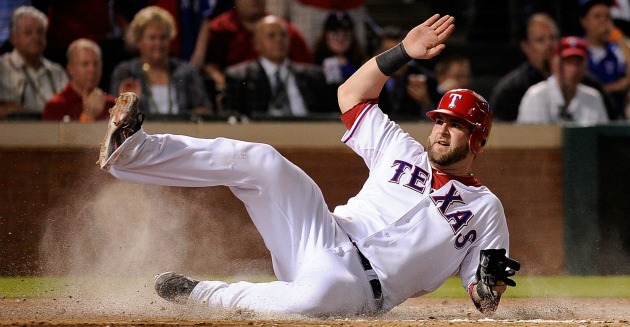 By Evan Brunell
ARLINGTON, Texas -- The Rangers laughed all the way to victory on Saturday, demolishing the Tigers by a score of 15-5 to clinch the ALCS and advance to the World Series.

Hero: The Rangers offense has to be the hero here, as eight of nine starting position players reached base at least twice, and six did it by notching at least two hits. Oh, and the lone player that didn't reach base at least twice was Endy Chavez, who was pinch-hit for after just one at-bat. His replacement, Craig Gentry, collected two hits. That's just a stunning performance and a marker of not only just how bad Detroit's pitching was, but how incredibly potent the Rangers offense was. Eight different players scored, seven different players had a RBI. All told, the club notched
15 runs and reached base 25
times. Wow.
Goat: Max Scherzer had been very impressive for the Tigers following the All-Star break, and equipped himself well in the postseason... until Game 6. Scherzer had absolutely nothing working for him and couldn't control the ball to save his life. He gave up four walks in 2 1/3 innings, also allowing five hits as he was scorched for six runs. There was absolutely nothing redeeming about Scherzer's start, and he was lucky enough to make it through the first two innings unscathed.

Turning point: The count was 2-2 on Nelson Cruz in the bottom of the third. The Rangers had already pushed across three runs to make the game 3-2 in favor of Texas, but obviously it was still a tight game that could have gone either way. On a 2-2 pitch, Nelson Cruz check-swung at a ball that the umpire ruled he didn't go around on, much to the ire of Jim Leyland. Cruz would eventually walk, setting up a David Murphy two-run, RBI single to open the floodgates. Maybe the Tigers would have still pummeled the Tigers into oblivion that inning, but the Rangers wouldn't have scored as much, certainly. If you recreate the inning with Cruz striking out, the Rangers would only have scored three additional runs, making it a score of 6-2 after the inning, not 9-2. Given the Tigers plated two in the top of the fifth, suddenly it's a 6-4 game, and the series is far from over.

It was over when... In the sixth inning, the Tigers asked Brad Penny to try and at least keep the Rangers offense down. Uh, yeah, not so much. With the score 10-4, Adrian Beltre greeted Penny with a double and came around to score with two out on a Craig Gentry single. But Penny wasn't done with his two-out struggles. David Murphy, who had been intentionally walked just before Gentry, scored on an Ian Kinsler single to push the margin of the game to eight runs. The Tigers already had enough trouble on their hands scoring six. But eight? Good night.Related video:
Rangers manager Ron Washington talks about the big victory:
For more baseball news, rumors and analysis, follow @EyeonBaseball on Twitter or subscribe to the RSS feed.

Photo:
Mike Napoli