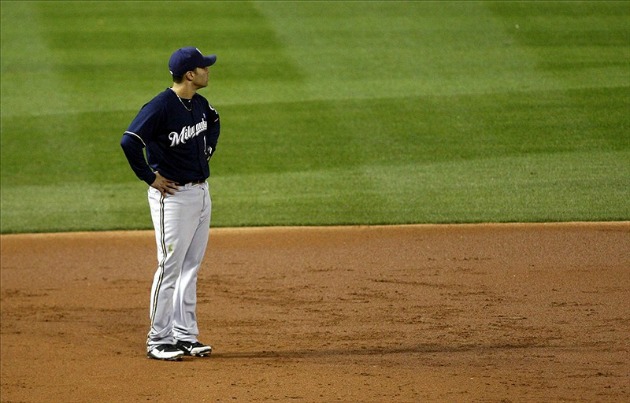 By C. Trent Rosecrans
ST. LOUIS -- Brewers third baseman Jerry Hairston Jr. was called for interference as Yadier Molina tried to score from second following Hairston's second-inning error, but there was no malicious intent on Hairston's part, he was still dumbstruck that he didn't make the play.
With two on and two out, Cardinals pitcher Jaime Garcia hit a hard grounder right at Hairston, who made a spectacular diving catch on the pitch before to rob Nick Punto, and the ball seemed to hit the lip of the infield and scoot under Hairston's glove into left field.
"Shock," Hairston said of his reaction. "You see it, you've taken so many ground balls in your life, you know what a ball's going to do. When it just shoots down and scoots once it hits that lip, it's definitely a shock. Ask any third baseman or first baseman when they're in, it's not fun."
What made it so stunning was the play Hairston had just made to rob Punto of a hit and two RBI: "There's no bad hops in the air," Hairston said.
• Cardinals reliever Lance Lynn on the St. Louis bullpen: "We're going out there trying to get as many outs as we can until (Tony La Russa) comes out to get us."
• Ryan Braun on having already played an elimination game this postseason: "It's similar, except that time we only had to win one game and this time we have to win two. It's challenging, but at least we've been there before, we've experienced it, we came out and played a great game in Game 5 and hopefully we can do the same for Games 6 and 7 at home."
• Brewers starter Zack Greinke on team's fielding woes: "I think everyone's going to make every play. Those things happen. I don't think I've ever thrown a pitch my whole entire life worried about if there's going to be a play made behind me. That stuff happens, but it's not going to happen very often."
• Brewers catcher Jonathan Lucroy on the team's errors: "It's tough, especially against that lineup. You give those guys more than three outs in an inning and they're going to happen. That's part of it. I've made mistakes. You can blame me for calling some of the pitches."
• Octavio Dotel on facing Braun, whom he has now struck out eight times in 10 at-bats: "Just licks against him, that's what I can say. I try to make my pitches every time I see him, and every time I face him, I just want to make my pitches. I guess I'm lucky against him, and I would love to be the same lucky when the series is over."
• Braun on the series returning to Milwaukee: "It didn't go the way we wanted it to, but against we get to go back home which is nice. eE need a two-game winning streak at home, which we've done plenty of times."
For more baseball news, rumors and analysis, follow @cbssportsmlb on Twitter or subscribe to the RSS feed.