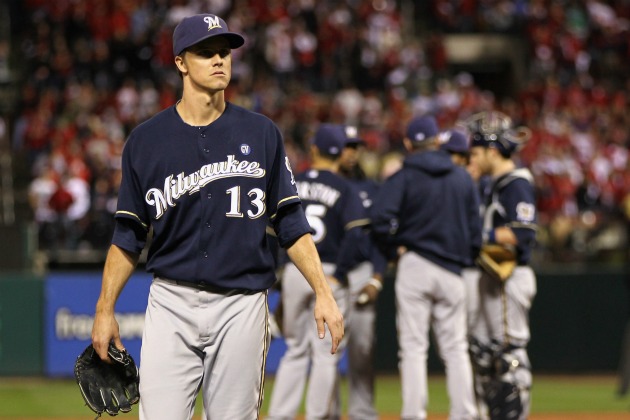 By C. Trent Rosecrans
ST. LOUIS -- Among qualified starters during the regular season, no pitcher struck out more batters per nine innings than Zack Greinke, and just 11 pitchers had a higher percentage of swings and misses on their pitches than Greinke's 10.6 percent.
To say Greinke wasn't that pitcher in Game 5 of the NLCS on Friday is an understatement. He didn't record a strikeout and of the 89 pitches he threw, there were just two swings and misses by Cardinals batters. So instead of his season percentage that was better than Justin Verlander (10.2 percent), his 2.25 swing-and-miss percentage was closer to Elih Villanueva of the Marlins, and nearly a full percent less than the swing-and-miss rate recorded by Scott Kazmir. So as much as his fielders struggled behind him in the Cardinals' 7-1 victory, Greinke can shoulder plenty of blame himself.
"Wasn't a great game pitched for me," Greinke said afterward. "Made several mistakes that ended up costing us. They pitched a good game. Tough loss. Definitely could have done better and made it a better game. I made a couple tough mistakes."
Both of the swinging strikes came on fastballs, while his best out pitch, his slider went for 11 strikes, but none of them swings and misses.
No batter swung and missed at a pitch until Greinke's 68th pitch of the night, a 1-1 fastball to Matt Holliday in the fifth inning. Holliday hit his next pitch to shortstop for a hit. Greinke's next swinging strike was on his 88th pitch of the night, a 1-1 fastball to Albert Pujols in the sixth. Pujols blasted Greinke's next pitch into left for an RBI single.
"I don't think his slider was biting as it usually was tonight," Brewers catcher Jonathan Lucroy said. "He had velocity, but his movement wasn't there and it usually is on his slider. His best pitches are his slider and his fastball, and if his slider's not working, it takes away from his fastball."
Greinke's fastball averaged 93 mph and had a high of 95.4 mph, but the Cardinals weren't missing them. He still threw 18 sliders (20 percent), close to his usual percentage.
"The slider wasn't very sharp at all today," Greinke said. "I kind of wanted to get it up a little more and get some weak contact with it. I did that pretty good. But whenever I needed to get it down, I had some trouble doing that. The last pitch to Albert (Pujols) was a hanging slider, and if I get it down, it's probably a strikeout. You could say that several other times, where if I'd have gotten the slider down better, there'd have been better results."
In all, he allowed seven hits in 5 2/3 innings and five runs, although just two were earned. He actually lowered his postseason ERA to a pedestrian 6.48 -- hardly the type of production expected from a former Cy Young-winner who demanded out of Kansas City so he could pitch in playoff games. Now three games into his playoff career, he's not shown himself to be the level of Chris Carpenter, Roy Halladay or Cliff Lee, the top-line pitchers who also have proven themselves under baseball's brightest lights. And make no mistake, there were those who wondered how Greinke would fare under the glare of the postseason. While it's not appeared to be a mental block, his lack of production in the postseason will be an issue and concern until he proves he can pitch on this stage.
He didn't have help on Friday -- Jerry Hairston Jr. missed a grounder by Cardinals starter Jaime Garcia that allowed two runs to score, Corey Hart missed a ball in right field that produced St. Louis' first run, Rickie Weeks missed a tough over-the-shoulder catch in the fourth before commttin an error in the fifth and Yuniesky Betancourt's error in the sixth aided the Cardinals' final run off of Greinke. That's all true, but it's also true that Molina's double and Garcia's grounder in the second were both hit very hard. That's because Greinke wasn't fooling anybody, and like it or not, his reputation in the postseason will be based more on what he's done in his three starts this October than anything he's done in the past.
For more baseball news, rumors and analysis, follow @cbssportsmlb on Twitter or subscribe to the RSS feed.