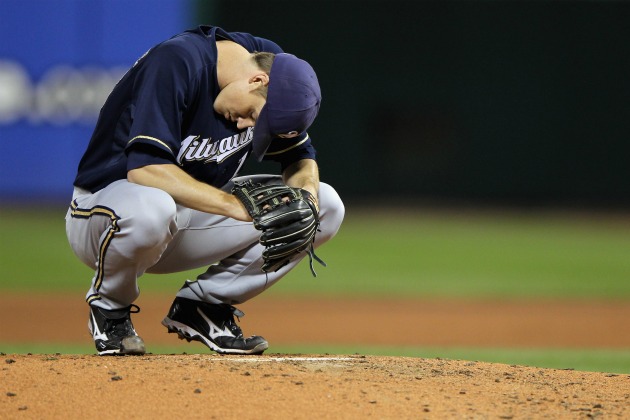 By C. Trent Rosecrans
ST. LOUIS -- The Cardinals' 7-1 victory in Game 5 has put St. Louis one game from the World Series, as they lead the series 3-2 after Friday's win.
Hero: Jaime Garcia really got the job done with his bat, as three of the Cardinals' first four runs came off the bat of Garcia. Two runs scored in the second on his grounder that went through the legs of Jerry Hairston Jr. and then he knocked in a run in the fourth on a ground out. Oh, and he pitched too... allowing only one run and striking out five (but did give up seven hits) in 4 2/3 innings.
Goat: Hairston was the toast of Milwaukee for about 23 hours after his brilliant slide in Game 4 and then his diving stop of a liner by Nick Punto in the second inning on Friday that temporarily saved two more runs. But with the next pitch, Garcia hit a grounder that went right between Hairston's legs, allowing two runs to score with two outs. He wasn't alone in the Brewers error-parade, but his was the first one and the most costly.
Turning point: It's hard to overstate how crucial Hairston's error was -- even though it seems like it's getting beat to death here. With the pitcher up, all the Brewers need is a routine play and it's still 1-0 after two. Instead, it's 3-0 and the seeds of doubt have been sown.
It was over when … Octavio Dotel came in to face Ryan Braun with two on and two outs in the fifth inning and the Cardinals leading 4-1. Braun came into the game just 2 for 9 with seven strikeouts against Dotel. He left the game 2 for 10 with eight strikeouts against Dotel.
Next: The series returns to Milwaukee with the Brewers' season in the hands of Shaun Marcum. Expect a run of Pepto in Wisconsin. Edwin Jackson can send the Cardinals to the World Series with a victory.
For more baseball news, rumors and analysis, follow @cbssportsmlb on Twitter or subscribe to the RSS feed.