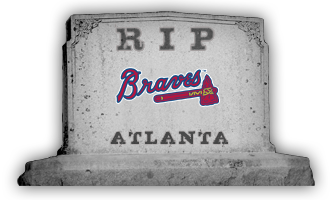 By C. Trent Rosecrans
Another season gone, another disappointment for 29 teams as one is immortalized forever. Let's take a look back at 2011 and forward in Eye on Baseball's R.I.P. series...
Team name:
Altanta
Braves
Record:
89-73, 2nd place in NL East, 13 games back
Manager:
Fredi Gonzalez
Best hitter:
Brian McCann
-- .270/.351/.466, 24 HR, 71 RBI, 51 R
Best pitcher:
Tim Hudson
-- 16-10, 3.22 ERA, 1.14 WHIP, 158 K, 215 IP
2011 SEASON RECAP
If it weren't for the Red Sox, the Braves' collapse would have been the biggest story of the last part of the 2011 season. Atlanta held an 8 1/2-game lead in the wild card on Sept. 5 before losing 13 of their last 18 and 20 of their last 30 to finish a game behind the Cardinals. Unlike Boston, Atlanta didn't lose its manager and general manager as a result. Only first-year hitting coach Larry Parrish was axed because of the team's failings.
There was plenty to like about 2011, especially in rookie first baseman Freddie Freeman, rookie closer Craig Kimbrel and second-year setup man Jonny Venters. The second two manager Fredi Gonzalez liked so much he ran them into the ground, putting Venters into a league-high 85 games and pitching the 23-year-old Kimbrel in 79. Lefty Eric O'Flaherty also pitched in 78 games, as the Atlanta bullpen ran out of gas in the final month of the season.
The worst part of the season was the regression of right fielder Jason Heyward. The runner-up for the 2010 NL Rookie of the Year struggled in his sophomore campaign, hitting just .227/.319/.389 with 14 home runs and 42 RBI in 128 games.
2012 AUDIT
The Braves were unlucky when it came to injuries, and they return most of the team that did play well for most of the season -- so it doesn't seem like there are big moves that need to be made, just some tweaks. The team is set for a while at first base, second base and behind the plate. Chipper Jones is coming back for one more year to man third. Atlanta also picked up a center fielder in Michael Bourn to fill that hole. The future of the rotation is bright, and that's the foundation the team can build upon.
FREE AGENTS
Alex Gonzalez
, SS
Jack Wilson
, utility IF
Eric Hinske
, OF ($1.5 million club option)
Nate McLouth
, OF ($10.65 million club option)
Scott Linebrink
, RP
George Sherrill
, RP
OFFSEASON FOCUS
The team needs to decide what to do about its shortstop positions. Alex Gonzalez solidified the position defensively, but the free agent shortstop is 34 years old and the team may want an upgrade offensively. A lot depends on what Gonzalez is willing to take from Atlanta, if he is open to a one-year bargain deal, or maybe two years, it wouldn't be the worst option. Otherwise, the team will have to look elsewhere. If Marco Scutaro is available on the cheap, he may not be a bad choice. The team isn't going to be able to afford the likes of Jose Reyes or Jimmy Rollins, so any long-term solution is going to have to be creative -- or wait.
General manager Frank Wren has said Heyward isn't guaranteed a starting spot -- to drive that point home, the Braves need to sign a veteran bat that could actually take some at-bats away from Heyward -- or at least be able to fill in when the team is facing a left-hander. That outfielder could also play left, where the team has to decide if Martin Prado is the answer or if he's just a placeholder in the outfield until Chipper Jones retires and Prado returns to the infield.
The Braves' back end of the bullpen should be strong, but they need an innings-eating right-hander to help keep Venters and Kimbrel from having to appear in every game. He may cost a little more than the Braves would like to spend, but reuniting with former Braves second-round pick Matt Belisle could be a solid addition.
Whoever is the new hitting coach will be the third in three years. Parrish never really fit in and had trouble getting his message across. Sometimes it's not the message, just how it's delivered. The team needs to look inside the organization (or for someone who has been in the organization) to find a voice that fits and will stay for a couple of years.
Finally -- several players just need to rest for a couple of months. McCann seemed to come back to soon and struggled after his return, and Prado rushed back from offseason surgery, rehabbing all offseason, and appeared warn out. And then there's Venters and Kimbrel -- those arms could use a lot of time off.
For more baseball news, rumors and analysis, follow @EyeOnBaseball on Twitter or subscribe to the RSS feed.